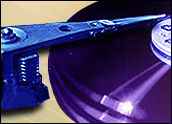 Enterprises continue to add to their data storage capacity, with external disk storage system sales up 5 percent in the fourth quarter of 2006 to US$6.9 billion, according to a report released Monday by research firm IDC.
IDC's Quarterly Tracker report on disk storage systems found the total disk storage capacity sold topped 1,030 petabytes, up more than 48 percent over the year before. (One petabyte is equal to one quadrillion bytes of data.)
For 2006, the total disk storage systems market posted 6 percent growth, to $24.4 billion.
"The adoption of networked storage continues to fuel the market," said Brad Nisbet, IDC storage systems program manager. Much of the interest appeared focused on file-related storage, he added.
In a separate IDC report, sales growth remains robust for storage software, as well — that market grew 8.3 percent in 2006 to $9.8 billion in worldwide revenue.
Space Race
The reports underscore the mounting volumes of data that businesses are storing. Mid-priced systems appeared to be a "sweet spot" for vendors, with the strongest sales in the $15,000 to $150,000 price range, IDC Research Manager Natalya Yezhkova said.
Throughout 2006, "These products grew at a double-digit rate and, for the first time, outsold the higher-priced segment," she noted. Increased adoption of networked storage in mid-sized companies drove the trend, as did the need for more storage capacity to handle digital content such as Web sites, e-mail archives and data backup.
Among storage vendors, EMC and IBM came out at the top in IDC's research, and with particularly strong growth rates.
EMC held a 22 percent share of the market for external disk storage, followed by IBM at 19 percent and Hewlett-Packard at 14 percent. IBM had 15.5 percent growth in the fourth quarter, IDC said, while EMC's growth was an even 10 percent.
By comparison, HP and Dell had a much rougher time — both bucked the growth trend and saw declining revenue growth in the storage area.
In the fourth quarter of 2006, HP's share of the external disk storage market fell 3.2 percent to $658 million, IDC said, while Dell's slipped 8.8 percent to $390 million.
Software Sales Strong
The same industry leaders were just as strong in software, with EMC holding 28 percent of the market in the fourth quarter, ahead of Symantec at 18 percent and IBM at 12 percent.
The data suggest EMC and IBM have defended their storage positions well against vendors that specialize in networking products.
EMC, for instance, has moved aggressively into the software space, rounding out its portfolio with a number of smaller software firms that offer complimentary products. EMC recently reported its fourth-quarter profit doubled on a sharp uptick in revenue.
There are practical and regulatory reasons why storage revenue is expanding, Gartner analyst Carolyn DiCenzo noted, with many businesses now having to maintain all archival data by government fiat.
Enterprises remain focused on cost, however, with large-scale data storage deployments remaining a major capital expense for most large companies, DiCenzo said.
Vendors that can address concerns about both up-front cost and ongoing costs are likely to be favored, she added.