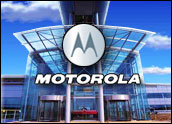 In a bid to extend its reach further into the enterprise marketplace, Motorola has agreed to buy Symbol Technologies in a deal worth around US$3.9 billion.
Symbol's products include a range of mobile solutions for businesses, including radio frequency identification (RFID) technologies such as bar-code readers, as well as remote payment systems and software for mobile devices.
Going Digital, Mobile
Motorola said it agreed to pay $15 in cash for each outstanding share of Symbol stock, an 18 percent premium over last week's closing price. Once the deal closes late this year or early in 2007, assuming it passes antitrust reviews, Symbol would become a wholly owned subsidiary of Motorola, maintaining its Holtsville, N.Y. headquarters. No details were given by the company on possible job cuts or other impacts as a result of the combination.
The deal has the potential to extend the leading mobile phone maker's reach into the enterprise market, where mobile solutions are being embraced as a way of boosting efficiency and worker productivity.
"Everything is going digital, and everything digital is going mobile — this is especially evident in the way businesses are run today," said Motorola CEO Ed Zander. "Motorola and Symbol share the same vision of a digital, mobile world for enterprises that matches the world people enjoy at home and at play."
The deal will give Motorola an instant portfolio of intellectual property in the mobile enterprise arena and would help extend Motorola's mobile brand into new areas, Zander added.
Seamless Integration?
The two companies will blend together well because they "share a common vision," as well as a number of common customers and complementary solutions, said Greg Brown, president of Motorola's networks and enterprise business.
"We will together be a leading player in enterprise mobility," Brown predicted.
One key area where Motorola could excel with Symbol on board is in the market for remote RFID scanners, which are used heavily to track inventory in many industries, from retail to warehousing and manufacturing.
Major companies such as Wal-Mart are pushing for wider adoption of RFID to enable the tracking of a product from the time it is manufactured through final sale to the consumer.
Overhaul Under Way
The purchase marks another chapter in the company overhaul that Zander initiated when he took the helm in 2004. The CEO is credited with boosting Motorola's place in the mobile handset sector with the Razr phone line, and with divesting Motorola of its chip-making business to focus on mobile gear.
The company has a line of RFID readers in development but not yet ready for the market, Zander said, and the Symbol acquisition will accelerate Motorola's arrival in that developing space. It has found traction with its mobile scanner products — including a major contract with the U.S. Postal Service.
Motorola may be out in front of competitors in its ability to offer fully integrated mobile solutions, with enterprises eager to buy traditional handsets, network gear and other mobile solutions from a single vendor.
Motorola has been firing on all cylinders in recent quarters, and efforts to broaden its portfolio of mobile products make sense given the trends in communications, telecom analyst Jeff Kagan said.
"A lot of the recent success was based solely on the Razr," he noted. Zander apparently recognized that heavy reliance on a single product line was not healthy for the company in the long run.
"They've been working on the back end, becoming more streamlined and lean, but having more irons in the fire on the product side is another important part of the strategy," Kagan concluded.
Motorola said the deal would not change its plans to repurchase $1.2 billion of its own stock over the next year and up to $4.5 billion worth in total.