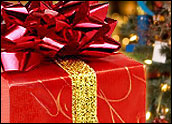 Ninety-one percent of those who made an online purchase in the past year plan to conduct e-commerce transactions this holiday season, according to a survey released Wednesday by Deloitte & Touche and the National Retail Federation (NRF).
Researchers compiled their polling results in the annual "Mood Survey: Retail Holiday Outlook," which gauges overall consumer and retailer holiday prospects.
Among all respondents, including those who do not use the Internet, 17 percent said they expect to buy goods online in the weeks ahead. That number climbed to 42 percent when only regular Web users were questioned.
Regular Internet users also said that they plan to spend more than a quarter of their holiday budget online.
"Consumers are using the Internet more and more for shopping and retailers are responding," said Deloitte consulting consumer business practice leader Ed Carey. "Retailers are becoming more savvy as they adapt to nuances of the Internet marketplace."
Glitches Continue
Infrastructure and fulfillment problems, which plagued e-tail fledglings and heavyweights alike last holiday season, continued to dog online marketers during the year.
While the majority of Web shoppers reported that they had a generally positive purchasing experience, Deloitte & Touche found that over 20 percent did not have smooth transactions.
The main problems customers encountered were that the ordered merchandise was not what was expected, the item was not delivered on time, and that the product or service was never received.
Advantages Outweigh Problems
Such dissatisfaction, however, has not dampened consumer interest in the e-commerce market, the survey concluded. Respondents said that the primary advantages of buying via the Web were round-the-clock access and the ability to save time.
Those questioned also said they appreciated being able to browse without the interference of salespersons and often turned to the Internet for product information prior to making a purchase.
In addition, the promise of quick home delivery as well as the possibility of avoiding sales taxes lured respondents to online vendors.
Sellers' Temperature Taken
Carey said that sellers are trying to address customer service concerns in an effort to build online shopper loyalty.
The study found that among brick-and-click marketers, 31 percent will allow buyers to return their online purchase to a store location, while 44 percent offer the option of picking up and returning in the store.
The survey also found that most businesses offer similar prices online and offline. Almost a fifth of the retail respondents said that their Web sites would include exclusive seasonal promotions. A quarter reported that they offered lower merchandise prices on the Net.
Overall, 45 percent of retailers will be selling on the Web during the holidays. Half of those will provide their full line of merchandise.
About the Survey
For its latest "Mood Survey," Deloitte & Touche polled 1,000 consumers and analyzed the responses of 50 retail executives from large and small firms in a wide range of product and service categories.