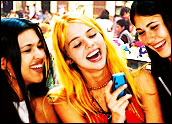 iPod, iPhone, iPad and soon we will have iCloud?
Mobile operators are working feverishly to determine how best to tap their network resources and offer not just bits and bytes but content, applications and other forms of value-added services. They know their future cash flow depends on successful deployment of these services.
Time is still on their side. The Net neutrality debate is nowhere near a conclusion. The all-you-can-eat mobile data plan is not deeply rooted in consumer expectations, so tiered pricing is still feasible. The business space for mobile content aggregation is not as crowded as in the fixed online world, and companies can still mold end-user consumption habits and pricing expectations. Operators will offer a bigger pipe in the next few years using all the tricks at their disposal, including bandwidth optimization, software upgrades and eventually LTE.
The New Screen
They need to move fast because the clock is ticking. Consumer adoption of mobile devices is accelerating. Parks Associates forecasts smartphone shipments in 2010 will exceed 200 million units globally. It took Apple three and a half years to sell the first 40 million iPods. The iPhone reached that number in less than two and a half years. For the iPad, the jury is still out, but its sales of 1 million units in 28 days shattered the original iPhone record.
The portable computing world is also humming, with sales of laptop computers and netbooks outperforming desktop computers by a wide margin. Parks Associates is projecting sales of more than 10 million units of Internet tablets and e-book readers in 2010, and that figure will quadruple by 2014. These "new screen" mobile devices will be the engines for the consumption of mobile content and applications.
The strong consumer appetite for mobility and convenience builds the case for the development of mobile content and applications — and should prompt mobile operators to move rapidly to develop their offerings. They are already behind smartphone makers in mobile app offerings. As more mobile content becomes available, operators should play a more active role in content aggregation and distribution so that their share of the app revenues will be a fairer reflection of the value of their network.
Examples such as Orange's mobile TV service and China Mobile's e-Paper service (electronic delivery of the newspaper to a mobile phone) illustrate the benefits of a more aggressive mobile cloud strategy. These offerings help operators build ARPU (average revenue per user), and through an extended billing relationship, they increase user loyalty with the operator's brands.
New Business Models
Inevitably, the mobile cloud world will have other types of content providers/distributors. Even if giants like Apple, Google or Amazon did not dominate the market, their smaller and nimbler competitors, such as Netflix, Hulu, mSpot or TVU Network, would still be siphoning mobile content revenues from mobile operators.
At the same time, consumers might find their own ways of circumventing operators to get their desired content. Sling Mobile, for instance, could be a great threat to operator-branded mobile TV services. Operators could redirect these competitive forces through partnerships, which would ultimately improve on their offerings to consumers. But if operators do not make these moves in a timely fashion, they will later regret their inaction and feel the pain in their bottom line.
For "new screen" device manufacturers, they benefit from consumers' fixation on cool gadgets and new digital devices as well as the "gold-rush" attitude of content providers and mobile operators. E-reader manufacturers today have a much easier conversation in convincing publishers and book distributors of their value than did the MP3 player makers with the music labels in the early 2000s. They also find more willing participants among operators, whose desire to create new revenue streams outweighs their concern about the impact on their network.
The tide has completely turned, and "digital distribution" and "network connectivity" are the cornerstones of new business models in the mobile world.
---
Harry Wang
is director of health and mobile product research at Parks Associates.