Innovations in wireless technology have made mobile Internet capabilities common and popular features on numerous portable consumer devices, including laptops, smartphones, tablets, netbooks and e-book readers.
Data usage has increased dramatically as a result of more devices and consumer use of bandwidth-intensive services and applications. Allot Communications, a provider of network optimization solutions to global mobile operators, reported global mobile data bandwidth usage soared another 77 percent in the first half of 2011.
Part of the increase in data usage is attributed to the types of applications mobile Internet users employ. Mobile applications such as uploading pictures to social networking sites, streaming radio applications like Pandora, and streaming video content like TV shows and movies all have heavy data requirements.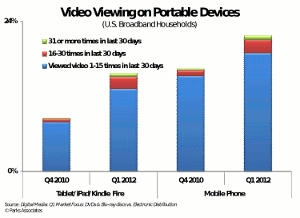 U.S. broadband households are starting to integrate these activities into the monthly routines. The percentages who regularly view video on their mobile phones and tablets increased both in number and frequency.
The phenomenal growth in data traffic is in sharp contrast to mobile data revenues for mobile operators. The combined data revenues for mobile data from the top-three mobile operators in the U.S. registered 9 percent growth from 4Q 2010 to 2Q 2011.
Operators Must Find the Right Path to Mobile Data Revenue
The era in which voice was the revenue driver for operators has been over since the dawn of mobile 3G technology.
As bandwidth demands and smartphone ownership (now over 50 percent of all U.S. broadband households) continue to increase, carriers must find the right path to monetize their data services.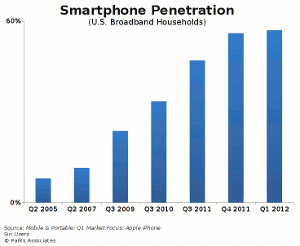 Mobile branded data services, also termed "mobile value-added services" (VAS), are premium mobile services that are not covered in voice or SMS/Internet data plans. Examples:
Mobile entertainment, including music, video, games, and e-books
Location-based services (LBS), such as digital maps, point-to-point driving directions, and real-time traffic alerts
Video communication and real-time video conferencing, which includes AT&T's Video Share service
Mobile cloud services
These types of services generated estimated revenues of US$14.5 billion for mobile operators worldwide in 2011. As a percentage of data ARPU (average revenue per unit), however, they collectively accounted for less than 10 percent in North America, and even lower portions in other parts of the world.
Today, operators' revenues increasingly come from mobile data plans packaged as services, but this growth engine will run out of steam in 2014-2015 when adoption becomes saturated in developed markets. Operators will find it challenging to increase data plan prices purely by offering bigger and faster data packages.
New Services
Mobile branded services represent great revenue and strategic opportunities for operators.
Deployments of these services are still in the early stages, and there have been some early successes, including SK Telecom's Cyworld (a social network/gaming service) and China Mobile's Mobile Paper (mobile newspaper delivery). In both instances, the operators invested in mobile data services early in their lifecycle, built a strong presence ahead of competition, and as a result benefited from use adoption accordingly.
However, in other cases, several operators have undermined the value of their services by folding them into mobile Internet data plans in response to near-term competitive threats from peer operators. Such actions will make it more difficult to compete in the long term against larger threats, such as OTT providers.
Consumers will pay for services that offer great mobile experiences.
These premium services will resemble the consumer experience on fixed broadband Internet today but will be more personal and convenient to use due to the advantage of mobility. They will rely on a fast and efficient mobile data network but are monetized based on consumers' value perception, not by bits and bytes used. As a result, mobile operators must find means to offer these services and monetize them effectively, detached from the monthly billing cycle.
To do so, mobile operators must innovate revenue models and forge smart partnerships.
They must invest in areas where threats are most fundamental. Some of the operators in Asia and Europe have started to invest in resources so that they will obtain content rights or create their own service platforms early in a service category's lifecycle. These strategic investments will pay off as consumer usage patterns change.
New Directions
Operators need to examine service platforms in areas such as multiscreen entertainment, HD video communications, mobile commerce, and advertising. If necessary, create a new business unit to manage emerging growth areas and treat it like an independent profit/loss center so that it can compete directly with over-the-top players.
To compete in distribution of services, operators must speed up the adoption of Web/hybrid app stores. The next battle for distribution control will take place in the app industry, so operators need to settle cross-platform app development differences in order to rally developers and improve time-to-market for new apps.
At the same time, operators need to open up their networks and provide more network APIs free of charge to third-party developers. This move will drive innovation.
To court application developers, operators must have strong development and publishing platforms. To meet this need, they can partner with or acquire leading app development platform providers such as Appcelerator, JQuery Mobile, and appMobi. With these connections, operators could provide better support and faster time-to-market benefits to application developers.
Is the Price Right?
Finally, operators must fine-tune data plan pricing without devaluing their branded data services. Doing so requires they change the basis of consumers' value perception from bandwidth usage to service brand. A service branded as a mobile experience that meets subscribers' needs will help them justify spending and reduce their price resistance.
Despite global operators experiencing healthy mobile data revenue growth and ARPU expansion over the last 12 months, over-the-top players have made aggressive inroads in this market through their mobile apps and mobile Internet-based services, threatening operators' long-term competitive positions.
In many instances, operators are already a step behind the competition. Apple's FaceTime spurred interest in mobile video-calling features — but many operators have banned use of FaceTime over 3G because they do not want a free bandwidth-hogging application connecting to their network. Apple's iCloud and Amazon's Cloud Drive are both high-profile offerings that could reduce users' reliance on operators' cloud offerings.
In order to thrive in what Orange terms as a "co-petitive" environment, operators must act quickly, partner smartly, and build a sustainable business based not on commoditized bits and bytes but on unique mobile experiences consumers will truly enjoy.