As the healthcare industry shifts to value-based care models, patient education and communication solutions increasingly have become an investment priority for care providers and payers. Consumers have many means, whether digital or analog, to acquire medical knowledge and personal health information, and they tend to reach out to their doctor when sick, or when they have complex health questions.
Traditionally, doctors do not proactively reach out to their patients — especially when their patients aren't sick. This model is changing, however, due to the increasing popularity of value-based care models. The need for hospitals and doctors to reach out to consumers/patients will increase sharply because of the following factors:
Public and private health payers demand that care providers collect customer satisfaction data (e.g., HCAHPS score) after a care episode, including such data as quality-of-care metrics that directly impact how care providers get paid.
Hospitals will face revenue shortfall, plus penalties, if a discharged patient is readmitted within 30 days for the same diagnosis. Proactive patient education and communications are critical to a patient's recovery and overall health, making solutions a worthwhile investment for hospitals and health systems.
Value-based care models have many different schemes. Most require care providers to be responsible not only for patients' episodic acute care needs, but also for their ongoing health and wellness maintenance needs, to reduce expensive medical services. This latter requirement usually is tied to a payment incentive (e.g., extra payout or shared savings). Proactive patient education and communications solutions are critical to preventive care's success, thus becoming a pillar component in many value-based care models.
The defining attributes of a winning patient education and communications solution include being proactive, interactive, personalized and outcome-driven. Scoring well on all these attributes is a tall order, as the overall market for patient education and communications solutions is still in the early stages: Care providers are learning what to deploy and how to deploy, whereas solution vendors are striving to understand what features their customers need, and how to prove value and differentiate against one another.
Market Opportunities
The newfound market interest in patient education and communications solutions has attracted bidders from a variety of backgrounds:
EMR and practice management software providers, such as Cerner, Epic, Athenahealth and Practice Fusion, have repositioned their patient portal solutions for this new opportunity by adding educational content and multimodal communication capabilities.
Telecommunication equipment and solution vendors, such as Cisco, Vocera, Voalte and Avaya, began their business relationship with hospitals and care provider organizations by providing telecommunications infrastructure and equipment. Now, they are trying to diversify by extending communications capabilities from inside a care facility to between a care facility and the home.
Customer service center operators such as Teleperformance and West assist care provider organizations in answering customer inquiries, and handle outbound communications needs such as patient surveys and billing. These vendors now view their customers' patient interaction and communication needs as an upsell opportunity.
Traditional patient educational content aggregators and curators, such as Krames StayWell, Remedy Health Media and PatientPoint, have been digitizing their content distribution capability and branching out into new media platforms and point-of-care locations for the last decade. For instance, in addition to distributing print booklets and leaflets about diseases and preventive measures, they are developing apps and installing digital kiosks and TV screens inside physician office waiting rooms. They are also interested in forging deeper partnerships with patient communications solution providers to jointly target new growth opportunities in this market.
As these solution providers emerge, care organizations also are remapping their patient communications strategies, and rethinking how they manage patient experiences in and out of clinical settings. Many care organizations recognize that a holistic approach is better and more effective than today's siloed approach, which is centered on patient diagnosis and point-of-care settings.
This recognition gives rise to what Parks Associates views as a second major trend: Care organizations will invest heavily in integrated patient engagement solutions that break the care setting silos, go beyond current state or diagnosis, or both.
Solutions that break care setting silos: Care organizations want to deliver a consumer-centric patient experience no matter where these consumers are — in the hospital, at a doctor's office, in a pharmacy, or at their own home. This premise-agnostic approach requires coordinated engagement efforts and efficient information exchanges to deliver context-rich experiences to consumers, regardless of where they are located.
Solutions that go beyond current state or diagnosis: Care organizations recognize that patient education and communication should address both immediate care needs and latent needs arising from other health-risk factors. For instance, when a patient suffers an acute condition like a heart attack, a care organization needs to pass on treatment and recovery information and clinical support requirements to the patient and his family. However, it also would benefit from preparing a series of longer-term clinical and self-care support resources based on the patient's unique health profile and post-treatment living environment. The goal is to provide contextually relevant information and support along this patient's care continuum to optimize the care outcome.
Emerging Leaders
Parks Associates has identified 24 breakout players in four major categories in the patient education and communications solution market. Some are startups with innovative solutions, whereas others are existing players with the potential to lead this market.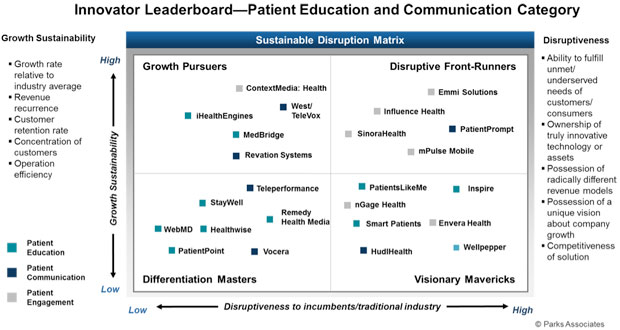 Click Imageto Enlarge
---
Join Parks Associates at the 4th annual Connected Health Summit: Engaging Consumers, Aug. 29-31 in San Diego, to learn more about the growing connected health markets.