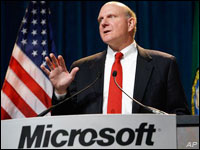 Microsoft CEO Steve Ballmer announced on Friday that he will step down from his post some time within the next 12 months, depending on when a successor is chosen. Stocks in the company surged 7 percent in early trading following the news.
"This is a time of important transformation for Microsoft," Ballmer said in an internal email that was posted on the Microsoft news center on Friday.
"Microsoft has all its best days ahead," he added.
Ballmer joined the Redmond, Wash., company in 1980 as its first business manager, and became CEO in 2000. During his tenure he oversaw the launch of the Xbox video game console and the Bing search engine as well as the US$8.5 billion acquisition of Skype.
While the popular Windows XP and Windows 7 operating systems were also rolled out under Ballmer, so, too, was the critically underwhelming Windows Vista.
A Microsoft spokesperson was not immediately available to provide further details.
'A Fresh Face'
News of Ballmer's retirement sent stocks up, suggesting that industry watchers are expecting better days to come.
"Microsoft was in need of a refresh and direction," Craig Stice, senior principal analyst at IHS Electronics and Media, told the E-Commerce Times.
"They've obviously received a lot of criticism for their lack of innovation in recent years and inability to see ahead of the mobile market that has taken a big piece of their market," Stice explained. "For Microsoft, [this is] a great opportunity to go outside the company, bring in a fresh face and someone that can provide a new path for the company."
'Time for Transition'
Indeed, "it's time for an executive transition at Microsoft," agreed Susan Schreiner, analyst at C4 Trends. "Microsoft faces competitive challenges and has been slow on the uptake — particularly as this business shifts from an ecosystem where software was at the center of this universe to a new era that is driven by devices, services and mobility.
"Going forward, it will be interesting to see how Ballmer's recent reorganization plays out — and if the next CEO has the foresight, experience and interpersonal skills to affect change at Microsoft on a massive scale," Schreiner told the E-Commerce Times.
The Meek Will Inherit
Microsoft is "made up of lots of little teams, and these groups don't always communicate with one another," independent industry analyst Chris Silva told the E-Commerce Times. "It is the makeup and the DNA at Microsoft, and innovation moves a little slower than at most companies."
Today, the company "needs to double down on mobile and tablets in the short term," Recon Analytics analyst Roger Entner opined. "Microsoft is the giant of the PC world in a post-PC age. The new head of Microsoft has to understand, embrace and see not only the future of mobile and non-PC devices and software, but also games and television."
For the future, though, "looking to Apple and Microsoft and these other big firms for the next big thing is misguided," Silva concluded. "It is the smaller firms that are in that place."