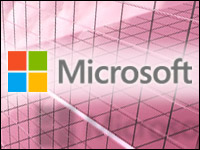 Google Glass may currently be the name most associated with Internet-connected eyewear, but Microsoft is apparently hoping to make its own mark on the nascent category. Specifically, the company is now testing prototypes of a smart glass technology of its own, according to a Tuesday report in The Wall Street Journal.
There are few details available as to how the glasses might work, but rumors circulating online suggest they could be linked to Microsoft's Xbox line of gaming products, including a Kinect Glasses initiative that has been known as "Project Fortaleza." While the Kinect Glasses were slated as a 2014 product, it is unclear if they have moved beyond an early prototype stage.
Earlier this year Microsoft also submitted a patent application for a head-mounted display that was tied to its gaming initiatives, and the company was looking at an "immersive display experience" as far back as 2011.
Microsoft's SPOT watch was another wearable device the company has toyed with, but that product was shut down along with MSN Direct early last year.
Wearable Potential
The timing of this latest round of rumors coincides with the release of new data from Gartner predicting that the wearable smart electronics market could reach US$10 billion by 2016. Microsoft, which by most accounts was late to the mobile market, could be hoping to ensure it is a leader in the wearable tech arena.
"Microsoft, like everyone else, is looking at the potential around wearables," Jim McGregor, founder and principal analyst with Tirias Research, told the E-Commerce Times. "Wearables combined with Internet of Things and data analytics is likely to create a major market inflection point, equivalent to the PC, Internet or smartphone."
As a result, "it's an open opportunity for Microsoft and everyone else," added McGregor. "However, for Microsoft, it represents an opportunity to regain a leadership position after missing opportunities with the Internet and mobile."
Mixed Hardware Success
Of course, while software has been Microsoft's bread and butter, it has had something of a rocky history with hardware. While it scored a hit with the Xbox 360 and its Kinect accessory, the company has left behind a long trail of failed hardware offerings in a number of hardware categories, raising the question of whether it's likely to do any better with eyewear.
"Microsoft has had mixed results with peripherals," said Roger Kay, principal analyst at Endpoint Technologies Associates. "Kinect has been pretty much an unqualified hit, but the watches not so much.
"It does crank out a steady stream of keyboards and mice," Kay told the E-Commerce Times. "So, the company has some record of being in this business. Mostly, Microsoft is concerned with making its software more usable, and the peripheral efforts tend to support this goal."
A Spot of Trouble
Other products have been less of a success, and the SPOT is just one example.
"Microsoft had the SPOT watch, which was a connected device using FM sideband that, like a lot of efforts at the time, was underfunded and died out," noted Rob Enderle, principal analyst at the Enderle Group. "It is clear we are moving towards wearable technology, and Microsoft has a ton of IP in this area. They clearly don't want to miss the wave if it turns out to be real, and thus are exploring the technology to assure they won't be left behind."
Moreover, "given how badly Samsung belly-flopped with their Galaxy Gear, there is some concern they may have damaged the segment badly," Enderle added.
Mirroring Google Glass
In the meantime, there is "no reason for the company not to experiment with a Glass-like knockoff," said Kay. "It's not clear that even Google will be successful in this domain. People are rather sensitive about their exposure to privacy invasion, and Glass seems like a risk from that perspective."
It is also possible that these various attempts to bring smart glasses to market could remain nothing more than vaporware for the foreseeable future.
"Microsoft has just as much potential as everyone else, but no one knows exactly how the market, devices and services will develop or when," said McGregor. "If history is any indication, it will take two to three generations, or approximately five years, after the first products introduced before the technology becomes appealing to the mass market."
Power, battery life, integration and connectivity are all challenges that need to be addressed, he added, and "that would push mass adoption out to the latter half of this decade."