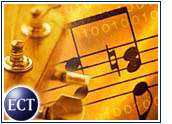 Microsoft (Nasdaq: MSFT) and Sony Music Europe said Wednesday they will partner to form a Web-based music video channel for European music fans.
The partnership calls for videos by Sony artists to be streamed across the Internet using Microsoft's Windows Media software. The service, to be made available through the Redmond, Washington software giant's MSN online network, is expected to be in operation sometime next month.
The video channel, as yet unnamed, will be launched first in Germany, Switzerland and Austria, where German-language artists will be featured, and in Sweden. In addition to music videos, the channel will feature interviews and other information on artists. The service will be expanded to all of Europe in coming weeks, the two companies said.
Broadband Target
Executives from London-based Sony Europe said the service will be accessible by dial-up modem users but added that it is aimed at the fast-growing legions of broadband users, who will get "near-VHS quality" video streamed to their computers.
"There is a strong existing European infrastructure in place to facilitate online streaming," said Nikko Kopke, vice president of technology for Sony Music Europe. "We see this as a great opportunity to provide additional exposure to both superstar and more cutting-edge, local and international acts."
The deal represents the growing degree to which record labels are embracing the Web of late. Many analysts have criticized music companies for dragging their feet on making music available over the Internet, saying that services such as Napster and MP3.com have made it impossible for record labels to ignore the Internet as a means for distributing music.
Other Deals
In a separate development Tuesday, BMG Music Group, a division of Bertelsmann AG, said it had inked a deal with Lycos and others to make digital music available over the Web, becoming the latest of several worldwide labels to begin meting out small amounts of digital music for download.
"Digital media is a worldwide phenomenon," said Will Poole, vice president of online media at Microsoft. He said the partnership with Sony will turn international music into "rich, localized digital media experience" targeted at specific audiences.
Boost for MSN?
For Microsoft, the deal with Sony may help extend the international reach of its MSN division, which currently operates in 33 countries. Earlier this week, Microsoft said it would work with eMachines to build a low-cost device designed to give direct access to MSN, and late last month, Microsoft said RadioShack would push MSN's high-speed connections through its 5,800 U.S. stores.
Meanwhile, Microsoft is also engaged in a war for turf in the growing streaming media industry. On Wednesday, Microsoft unveiled its latest offering, Windows Media Player 7, for Macintosh.