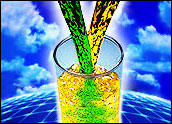 Microsoft announced Friday that it will work with the automotive technology unit of German technology giant Siemens to codevelop a line ofin-vehicle technologies such as navigation, entertainment and communication.
Microsoft and Siemens VDO will work together to build solutions based on Microsoft's Windows Automotive software platform, with the first wave of products expected to be ready sometime in 2009, the companies said.
They will collaborate on a host of solutions, including technology that will enable portable entertainment devices — such as iPods and portable video players — to be connected to in-car video and audio systems.
Wanting to 'Transform the Driving Experience'
Together, the companies will be able to create "a range of innovative infotainment solutions that transform the driving experience," said Martin Thall, general manager of the automotive business unit at Microsoft.
"We will be able to incorporate the rapidly changing trends in consumer electronics into the world of automotive electronics in an ideal way," said Helmut Matschi, a Siemens VDO board member. "Working together, we will make both current and future multimedia and infotainment solutions, some of which are still under development, available to current vehicle generations."
The partnership could be a boost to Microsoft's efforts to boost in-car telematics, a field where it has had a presence for some time. Toyota, Honda and Volvo already use Microsoft's automotive version of Windows to power in-car navigation and communications systems, for instance.
Long Time Coming
Microsoft debuted the Auto PC platform nearly 10 years ago, using the Consumer Electronics Show in 1998 to unveil the technology it had been working on for several years. Since then, so-called telematics has gained traction slowly, with relatively few blockbuster applications until more recently.
Microsoft has continued to invest in its automotive products, positioning them as part of a larger move to become the foundation for a seamless entertainment and communication platform that moves from PC to living room to car to mobile device.
The software maker is far from alone in being frustrated by the pace of adoption of telematics, but rivals such as Apple have begun to show how consumers want to use such systems, with many automakers now offering models with iPod jacks.
With Microsoft chasing Apple with its Zune portable players, the various parts of Microsoft's strategy could start to come together, ABI Research analyst Dan Benjamin told the E-Commerce Times.
The Zune could become not only a way to carry music and movies to be played in a car but also could morph into a satellite radio receiver over time, Benjamin said. By itself, the automotive segment could be a significant revenue source for Microsoft, with some 50 million cars sold worldwide each year, but the opportunities to advance the larger entertainment strategy may be even more compelling, he added.
The Siemens announcement and other recent developments may indicate Microsoft is finally gaining momentum. Later this year, some models of Ford cars will be available with Ford Sync, a voice-activated entertainment and communications system built in part by Microsoft.
That product may be able to outsell other offerings because it is being positioned as a relatively low-cost option, with a price tag of less than US$400 in some models.
One Battleground, Many Combatants
Microsoft is running into some familiar competitors from other markets in the automotive space. Google has begun to positions its maps and other online services as suitable for in-car use, for instance.
Meanwhile, the massive community of open source developers working on Linux have helped make that operating system more prevalent in embedded devices such as built-in navigation and entertainment systems.
"Auto manufacturers are getting on the infotainment bandwagon big time," Frost and Sullivan analyst Sivam Sabesan told the E-Commerce Times.
Those automakers are also looking for ways to give drivers a more satisfying driving experience and being able to better integrate more systems in a car will go a long way in that direction.
"Microsoft's work with Ford and Siemens VDO are part of a trend that is likely to become more prevalent," Sabesan added.