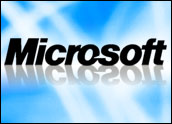 Microsoft has scored a contract to provide Internet Protocol television services (IPTV) to one of the largest phone companies in Europe, possibly providing it a key proving ground for its technology as Web TV grows in popularity.
Redmond, Wash.-based Microsoft and Deutsche Telekom announced they had reached a deal to have Microsoft's IPTV software power next-generation television and interactive entertainment services it will distribute over its broadband Internet network.
German Launch This Year
Microsoft said the agreement is the largest it has secured to date in Europe for its IPTV platform and the second largest contract overall for the technology, behind an existing deal with AT&T, which is now testing a consumer service in parts of Texas.
The platform the two companies will build will enable customers to receive traditional TV programs over their Internet connections, as well as high-definition programs, interactive TV, digital video recording services and video on demand.
Deutsche Telekom said it expects to have its network ready for launch by the middle of this year in 10 German cities, including Berlin, Hamburg, Cologne and Munich.
The telecom company said it chose Microsoft's platform after putting it through "extensive tests."
"We are convinced that we will be able to offer excellent-quality IPTV services that will expand as we need them to," said Kai-Uwe Ricke, chairman of the company's Board of Management. "IPTV delivered via VDSL will enable better, more service-oriented, more interactive and, above all, more customized television."
Big Win
IPTV has the potential to greatly increase the interactivity of television programs as well as to provide individual consumers a much wider range of choices.
Microsoft noted that the true two-way communications possible through Internet Protocol could enable live voting from inside TV programs and even having remote users participating in live game shows or other competitions.
Microsoft CEO Steve Ballmer called the deal — terms of which were not disclosed — "a very significant milestone."
Certainly, Microsoft is racing numerous competitors for the right to have a hand in making IPTV possible, with many companies in various parts of the telecom and Internet industry angling for a piece of what is expected to be a booming business in a matter of just a few years.
Last year, Cisco purchased Scientific Atlanta, which has traditionally made set-top boxes for cable systems, as a way of enabling it to use its strength in the Internet backbone business to deliver TV content into the home. In January, meanwhile, Motorola said it would buy another set-top box maker, Sweden-based Kreatel, whose technology works with IPTV and not long afterwards, Nortel made a move to buy a firm with IPTV capabilities.
Meanwhile, several startups have attracted significant investments for their approaches to making it easier to send television programs over existing and new higher-speed Internet networks.
Picking Partners
Carriers are no doubt watching closely as alliances are being made, with each seeking its own best partnerships for breaking into the IPTV business, telecom analyst Jeff Kagan told the E-Commerce Times.
That's because a key factor, especially in the early days of IPTV, will be reliability of the service.
"No carrier wants to roll out a service only to have it not live up to customers' high expectations," Kagan said. At the same time, he added, none wants to be left behind and lose opportunities to capture early market share. "Carriers want the fastest route to having a robust and reliable service on the market."