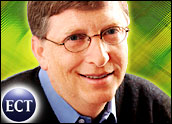 Just a month after finalizing a billion-dollar settlement with California consumers, Microsoft was sued again, this time by several cities and counties that believe the software giant used its market dominance to charge artificially high prices.
The suit, filed Friday in San Francisco Superior Court by the cities of Los Angeles, San Francisco and others, seeks class-action status, which would allow any municipality in the state to join the suit.
Analysts speculate that, if successful, the action could the cost Microsoft millions more should it lose the case. The settlement with consumers, businesses and school districts — which calls for discounted software for consumers and donated computers for school districts is valued at around US$1.1 billion.
The suit makes the same basic allegations as earlier antitrust actions — that Microsoft acted like a monopoly by using its market dominance in the desktop operating system to charge inflated prices for its software.
San Francisco City Attorney Dennis Herrera said the suit is necessary because a judge recently ruled that municipalities were not included in the class that settled with Microsoft. Others who signed onto the suit already include the counties of Santa Clara, San Mateo and Contra Costa.
"It's anticompetitive, it's predatory, and it denies consumers, and in this case taxpayers, the benefits of innovation that a free marketplace should provide," Herrera said in announcing the action.
A Lingering Problem
A Microsoft spokesperson told the E-Commerce Times that the company would comment further once its legal department had a chance to "fully understand the complaint."
"We firmly believe that we have provided very competitive prices and great solutions to our customers," he added. "In fact, we have built our business on delivering innovative software at very low prices, and have been the market leader in reducing prices while increasing the value contained in our software."
Analyst Rob Enderle of the Enderle Group said the latest suit shows that despite the progress already made, it will be a while before Microsoft can put the antitrust matter to rest.
Enderle told the E-Commerce Times that Microsoft will likely choose to litigate a case — and might choose this action — because its willingness to settle in previous cases might be seen as an opportunity by some.
The original antitrust case with the U.S. government "has made suing Microsoft easier and the belief that Microsoft is much more willing to settle out then litigate now undoubtedly adds to the belief that they are an attractive target," Enderle said. "They will need to make an example of one of these cases and it is likely they will choose this one to do that."
Cash? What Cash?
The timing of the case could be an added headache for Microsoft because it comes less than two months after the company took the bold step of moving to reduce its cash reserves by buying back millions of dollars worth of its own shares and increasing the dividend it pays out to shareholders.
"It would be difficult for them to go back on that plan now that it's announced," Enderle said. And reducing the cash stores could also be a benefit in the long run. "The large cash reserve does make it look like Microsoft would be more willing to settle."
That has certainly been the case in the past. Microsoft reached a $750 million settlement with AOL to close the book on the long-simmering private lawsuit filed on behalf of the Netscape browser. And it struck a sweeping deal with Sun Microsystems to settle both antitrust and patent matters. That deal is worth around $2 billion.
Microsoft's Web site also notes settlements with plaintiffs in New Mexico, Vermont, Arizona and Minnesota since the beginning of the year, and in Tennessee, North and South Dakota, North Carolina, Kansas and Montana.
Microsoft has made no bones that clearing the decks of legal action is a top priority, both to remove the uncertainty it creates for its business and to enable the company to focus on innovation and product development, especially its long-awaited Longhorn platform, now said to be on track for a 2006 debut.
But new issues seem to arise almost as quickly as Microsoft can settle old cases. A challenge to the European Union's attempt to slap it with a $700 million fine is set to begin next month, and the same regulators have thrown up a potential roadblock in its attempt to acquire digital rights management company Contentguard.
Reform School
One likely frustration for Microsoft is the lengths to which it has gone to settle the antitrust action. In June, Microsoft and the last states unhappy with the U.S. Department of Justice settlement with Microsoft came to agreements to dismiss lingering regulator actions.
Yankee Group senior analyst Laura DiDio said Microsoft has changed the way it does business to remain in compliance with the order that settled that action, only to have more suits brought forward anyway.
"Microsoft knows they are and will be monitored very closely," DiDio told the E-Commerce Times. "It's not in their best interest to have new issues arise."