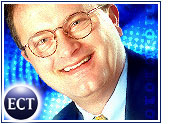 Longtime Microsoft Chief Financial Officer John Connors is quitting the company to become a partner in a Seattle venture capital firm, ending a 16-year-run with the software giant, much of it spent as the financial spokesperson while the company underwent major changes.
Microsoft did not immediately name a successor to Connors, 45, who took over the CFO role late in 1999, but said it "plans to consider both internal and external candidates" to replace him. Connors will oversee Microsoft's upcoming quarterly earnings release at the end of this month and also help conduct a search for his replacement.
Time to Move
In a statement, Connors said he felt it was "time for me to move to a new chapter in my life," including spending more time with his wife and four children. He added: "I'm looking forward to a greater emphasis on community and business participation in the Northwest."
Microsoft CEO Steve Ballmer said Connors was leaving behind a "very capable team" to steer the company's finances until a replacement is named.
Analysts said time would tell what impact Connors' departure would have on Microsoft, and they were split on whether a successor was more likely to come from inside or outside the company.
Enderle Group principal analyst Rob Enderle said the move might be more evidence that the software giant is moving into a different mode, one of acquisition, with the company acquiring smaller firms for their intellectual property and technology in order to maintain its edge over competitors.
Era of Acquisition
"Microsoft is moving into an era of acquisition and John doesn't like to do M&As," Enderle said.
Enderle is also not surprised that Connors is moving to a venture capital firm, noting that the advent of new regulations in the post-Enron era has made the CFO position at a publicly traded company one of the most stressful jobs around.
"He had reached the most senior position he was likely to get, and, by most reports, the CFO job, which is a huge pain at any large company, had ceased to be fun for him some time ago," Enderle added. "In the end, it was just time, and he follows a number of others into what will be a more interesting and less risky time in his career."
Connors certainly leaves behind a company that is much different than the one he joined in the late 1980s and even since he assumed the CFO title five years ago.
Several Changes
Under his leadership, Microsoft phased out a program of giving employees large grants of stock options, a move that made the software company a leader among technology firms. It also revamped its financial reporting structure, with Connors delegating CFO-like responsibilities to managers in each of the company's seven business units.
Last year, Connors oversaw the details behind Microsoft's US$75 billion cash payout program, which includes stock buybacks, a sizeable one-time dividend payout and a program to pay quarterly dividends going forward.
That move has caused some to comment that Microsoft has completed the transition from growth firm to a more mature enterprise with stable sales and earnings expectations.
"Microsoft changed its approach to reflect the new reality that giant jumps in growth aren't going to be what defines it from now on," Gartner analyst David Smith said.
Venturing Ahead
Connors will become the 10th partner at Ignition Partners, a Seattle venture capital firm that already counts several former Microsoft employees among its ranks, as well as the former CEO of AT&T Wireless.
Late last year, Ignition closed a $300 million third fund, giving the firm about $750 million in total assets. Its portfolio includes corporate governance software maker Certus, anti-spam firm Cloudmark, corporate networking site Jobster and Judy's Book, a Web site that lets consumers get recommendations on contractors and other service providers.