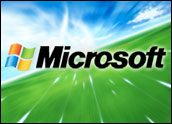 After years of speculation and delays, Microsoft's Windows Vista is finally aiding the software giant's bottom line. The first wave of sales from the new operating platform helped to propel the company to one of its strongest third quarters on record.
Redmond, Wash.-based Microsoft said it earned US$4.93 billion, or 50 cents per share, in the quarter, a 65 percent jump from the $2.98 billion in profit from a year ago. Revenue was $14.4 billion, a 32 percent increase over 2006 levels. Both numbers were ahead of analyst estimates.
The early returns from Vista and Office 2007 demonstrate the company's ability to use a strong sales force to leverage a "compelling product cycle" into revenue and profit growth, said Microsoft Chief Operating Officer Kevin Turner.
Boosting Results
Windows Vista and Office 2007 provided a direct boost to results, both through increased sales when they became available in late January and the cashing in of upgrade vouchers sold with PCs purchased before the new software was ready. Microsoft had deferred the compensation from sales of those coupons, adding the cash to results only as the coupons are cashed in.
Microsoft also laid out an upbeat forecast for the fourth quarter, saying full-year revenue could be as high as $57.5 billion, which would represent an annual growth rate of 12 percent — impressive for such a mature company.
The results and the outlook were well-received by investors and analysts, with both Citi and CIBC upgrading Microsoft stock in the wake of the results.
Vista and Office sales handily beat internal forecasts, leading to an "excellent quarter," stated Microsoft CFO Chris Liddell.
"I think the strength of the results surprised many of us," Rob Enderle, principal analyst of the Enderle Group, told the E-Commerce Times.
The data contrasts some early reports that Vista was not driving new PC sales and that some users were frustrated by the new system and may "indicate that, as often happens those having problems with products are vastly more visible then those who aren't," Enderle added.
Ups and Downs
There were weak spots, however, with the entertainment and devices unit suffering a post-holiday slump. That business line, whose products include the Xbox 360 game console and the Zune portable music player, saw sales drop 21 percent to $929 million.
Nevertheless, Microsoft is on track to surpass the 1 million mark in Zune sales by year's end, Liddell said. By contrast, Apple announced in April it had sold its 100 millionth iPod.
"The one problem area that remains is the entertainment division," said Enderle. "I don't see a fix for that on the horizon and would expect, with the other units gaining ground, that it will probably get more focus by executive management as a problem child going forward."
Web services did grow 11 percent on a revenue basis to $623 million, with advertising revenue up 23 percent over the year before.
Still, Microsoft's online services remain a distant third among major players, with the rollout of a self-service advertising platform that Microsoft claims will enable more targeted — and therefore more effective — ad placement doing little to help the company gain on Yahoo and market leader Google. The amount of revenue being generated from each search is up over a year ago, before the new platform debuted, Liddell said.
Microsoft also continues its aggressive buyback program, purchasing some $6.7 billion worth of its own stock during the quarter.
Better Than Expected
The strong data from Microsoft comes despite mounting anecdotal evidence and analyst speculation that Vista was not enjoying strong initial adoption.
Consumer-focused reviews of the new platform have been mixed and the period of transition to Vista has seen Apple make some of its most impressive market share gains in a decade.
Meanwhile, for corporations, large-scale deployments of Vista will require long-term planning, both to ensure a smooth transition and to accommodate the IT capital investment that will be required, noted Gartner analyst David Mitchell Smith.
That could mean that Microsoft will enjoy rising revenue from Vista and Office 2007 for some time, with Longhorn — the server version of Vista — soon to be rolled out alongside, Smith told the E-Commerce Times.
Despite the delays and the likelihood of initial bugs, "sooner or later, most organizations will deploy Windows Vista," he added.
Vista is only now passing the key 90-day mark after release,a time when many early issues are resolved, Enderle noted. The pendulum has already started to swing back toward more positive coverage of Vista.
"If this continues into back-to-school and the critical holiday season, Microsoft should continue to show strength through the year as the market warms to this offering and the vastly improved hardware due in the second half," he stated.
Still, many big enterprise customers are still taking a wait-and-see approach about Vista, with many even more focused on the new server software, Enderle concluded.