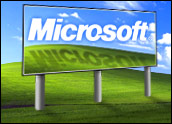 Microsoft on Friday said it added US$16.2 billion to its ongoing share buyback plan, nearly doubling its repurchase authorization to $36.2 billion through June 30, 2011.
The software giant is sitting on a stockpile of cash. Microsoft had $34.16 billion in cash and short-term investments as of June 30, the end of its fiscal year. Last month, the company announced it would start on a $20 billion share buyback to be completed by mid-August.
"It doesn't make sense to hoard too much cash, especially if you don't have any programs to invest in different companies," Marc Pado, an analyst with Cantor Fitzgerald, told the E-Commerce Times. "This move is what many investors have asked Microsoft to do as their earnings growth slows."
Buyback Motivations
Stock buybacks are intended to boost a company's stock prices by lowering the number of outstanding shares available on the market. Microsoft shares moved up 37 cents, or 1.5 percent, to $25.07 in morning trading on the Nasdaq, after the firm announced its plans.
"Stock buybacks marked a major shift in the way big corporations use their cash. That shift really came out of the 1987 decline in stock prices," Pado noted. "Companies stepped up, bought their own stock back, and even as revenues declined or held steady, their per-share earnings went up."
Microsoft has seen its stock drop in the wake of fourth-quarter earnings that dipped 24 percent to $2.83 billion, or 28 cents per share, despite a 16 percent increase in revenue to $11.8 billion. Microsoft attributed the expected drop to increased research and development spending in areas where it is not dominant.
Dutch Auction
Microsoft also announced early results of its modified "Dutch auction" tender offer, which expired at 12:00 midnight, Eastern Time, on Thursday. A Dutch auction allows shareholders to tell a firm a price at which they are willing to sell their shares.
Based on the preliminary count by the depositary for the tender offer, Microsoft said it expects to acquire approximately 155 million shares of its common stock at a price of $24.75 per share for a total cost of approximately $3.8 billion. These shares represent approximately 1.5 percent of the shares outstanding.
The number of shares to be purchased and the price per share are preliminary, Microsoft said. Final results for the tender offer will be determined subject to confirmation by the depositary of the proper delivery of the shares validly tendered and not withdrawn.
All in the Timing
Analysts noted the timing of the buyback announcements may be due to the delays in releasing Windows Vista, the latest version of its operating system. Microsoft could be supporting its stock to keep it at a trading range that is comfortable for its investors, with the expectation that earnings will improve when Vista is finally released.
"It almost hurts Microsoft to pre-announce too early that it has a major revamp of its operating system in the works," Pado said. "People don't want to buy the old software as they wait for the new software. That creates a lull. Microsoft needed to do something to shore up investor confidence. Taking this step with the Dutch auction was a big part of that."