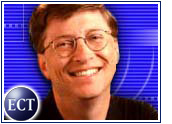 Just a few weeks ago, it seemed that Microsoft had a strong chance of staving off a government-mandated breakup by taking its case up the judicial ladder of appeals — all the way to the U.S. Supreme Court, if necessary.
While a judicial victory remains a possibility for the software giant in its lengthy court battle with the U.S. Department of Justice (DOJ), recent events seem to have tilted the scales of public, and perhaps more importantly, investor opinion in favor of the government.
U.S. District Judge Thomas Penfield Jackson, who heard and weighed all the evidence in the case, has already made it known that he thinks a breakup of Microsoft would be an appropriate remedy for the company's antitrust violations.
In fact, almost everyone seems to think a breakup is a done deal. The issue generating hot debate now is how the substitution of two or three giants for one titan will benefit consumers, versus how much, if at all, such a restructuring might punish Microsoft.
Something is clearly hurting Microsoft already, though — the waiting. The lawsuit has hung over the Redmond, Washington-based corporation for too long. Now is the time to put it to rest.
Damage Assessment
Microsoft has taken investors on a lengthy roller coaster ride with wildly fluctuating stock prices linked directly to developments in its court battle. True, high-tech stocks have taken a beating as a whole in recent months, with the investing community rethinking valuations. But how much of that uncertainty stems from the perception that even giants can fall?
The prolonged case has very likely hurt sales. Microsoft continues to enjoy success from its widespread Internet and e-commerce offerings, and the legal turmoil has not forestalled the release of new software products or an aggressive move into the handheld arena. On the other hand, with Windows 2000 showing a sluggish performance out of the gate, doubts over the company's long-term prospects may be showing up at the sales register.
Microsoft is also bleeding internally. The company handed out bonus stock options to its employees recently — a move that many saw as a bid to shore up support and boost confidence about Microsoft's long-range health. But over the Memorial Day weekend, word leaked out that a strategic plan that was due to be released will be held back for a while, so that it will not be overshadowed by new developments in the antitrust case.
Future Tense
Things are likely to get worse for Microsoft as dark clouds continue to gather over the courtroom. On the other hand, if the software titan were to take its medicine and put the case to rest tomorrow — even with a tough breakup written on the prescription pad — then the company could get back to its real business, which as Bill Gates likes to say so often, is innovation.
I don't see a breakup taking down Microsoft. Slowing it down, maybe, but some of the wind has already been taken out of its sails. Even though Microsoft is a monopoly, the company does not totally dominate the computer market — as evidenced by a nibble here and there from Linux, and the giant's uphill battle against Palm Pilot in the handheld market arena, to mention a couple of examples.
Asking for Trouble
So what should Microsoft do? Drop the appeal. Swallow hard and agree to work out a suitable plan for breaking up the empire. Clearly, Gates does not want to see the house he built dismantled, and therefore, Microsoft will probably take the long road.
As a consequence, developments in the antitrust case could overshadow news about the company's products and innovations for another year or more.
Microsoft can certainly afford the appeal, but until the case is resolved, investors will continue to jump ship, employees will search for greener pastures, and consumers may opt to buy alternatives to software developed by a company with a cloudy future.
If Microsoft is as focused on innovation and as loaded with talented, versatile employees as Gates claims, the company should emerge from a breakup ready to compete in the new high-tech economy. So why not just do it?