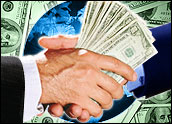 Mercury Interactive Corporation on Monday signed a definitive agreement to acquire privately held Systinet Corporation for US$105 million in cash.
Mercury is in the business technology optimization (BTO) software business. Systinet is a provider of service-oriented architecture (SOA) governance and lifecycle management software and services.
The companies said combining Systinet technology with Mercury BTO Enterprise offerings will help enable customers to take a lifecycle approach to optimizing the quality, performance and availability of SOA business services.
Mercury CEO Tony Zingale said the combination of Mercury and Systinet will immediately position the company as a leader in the high-growth SOA market.
"Mercury continues to grow our BTO offerings to help customers optimize the business outcomes of their IT initiatives," Zingale said. "Systinet's technology and deep expertise in SOA combined with Mercury's strong BTO market leadership introduces powerful product synergies and the ability toaddress a broader set of customer opportunities in the fast growing SOA market."
Anatomy of an SOA Provider
Systinet SOA products provide a system of record and a set of governance and lifecycle capabilities designed to help provide the visibility, control, quality and integrity critical to SOA success.
These products deliver capabilities for publishing and discovering business services, creating, managing and enforcing policies, and managing the full lifecycle of business services and other SOA assets.
Key Systinet products include the Systinet Registry, a business service registry for organizing, managing, discovering, and publishing reusable business services and other SOA assets.
Systinet Policy Manager is designed to streamline policy creation and management and automates service validation to help ensure only conforming services are published into production.
Mercury's Big Plans
Mercury said it plans to leverage Systinet products to help customers mitigate the risk to business outcomes of SOA initiatives.
The company said its customers will be able to use Mercury and Systinet offerings to deliver predictable, consistent business results from SOA initiatives, to provide the control and visibility required to ensure the reuse of business services, and optimize the quality, performance andavailability of SOA applications.
The acquisition is subject to customary closing conditions and certain regulatory approvals. It is expected to close during the first quarter of 2006.
Ripe for Consolidation
Ron Schmelzer, a senior analyst at Zapthink, told the E-Commerce Times that the Mercury acquisition is significant because it marks a year of consolidation in the governance space, a hot area within SOA.
"SOA is gaining momentum as a way to build applications out of reusable composable component services within an organization," Schmelzer said. "The more we try to combine services, the more we have to know what we are doing so that we are not combining services that shouldn't be combined."
Schmelzer said the governance space, which offers solutions for managing people and operations in compliance with regulatory requirements, has finally reached a tipping point. Large vendors like IBM, BEA, and Oracle, he added, are looking for an answer.
"Large vendors are either going to have to build it or buy it," Schmelzer predicted. "These smaller vendors have done such a good job maturing their products that they are all ripe for consolidation. Not just Systinet, but also LogicLibrary, Infravio, and a few others."