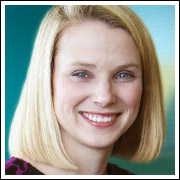 The revolving door at Yahoo continued to turn on Tuesday as the CEO Marissa Mayer announced bold new plans that included bringing in a new CFO, Ken Goldman.
Mayer is the latest in a string of chiefs to take turns at the company's helm. Yahoo has had three CEOs and two interim CEOs in just a little more than a year, following the firing of Carol Bartz last September.
Mayer plans to improve the talent pool of the once-hot Internet darling, and to refocus on its culture, company goals, compensation and calibrations.
Among other things, this "Four Cs" approach includes replacing Tom Morse, the chief financial officer who served briefly as interim CEO last year. He reportedly had been wary of working with yet another CEO.
As part of her overall housecleaning, Mayer replaced Morse with Goldman, recruited from the computer-network security firm Fortinet.
"Goldman is a different CFO for a different strategy, one that presumably involves growth and investment," said Greg Sterling, principal analyst at Sterling Market Research.
Yahoo did not respond to our request for further details.
New CEO, New Strategy
The fact that Yahoo has a new CFO hardly seems newsworthy considering the roller coaster the company has been on for the past several years, but as an ingredient in Mayer's recipe for a turnaround, it has attracted keen interest.
"Mayer is Yahoo's last-best hope to get back on track and regain some sort of momentum," Sterling told the E-Commerce Times. "She hasn't fully articulated her strategy in detail, although mobile will be a piece of it, and so will personalization. However there's nothing significantly new in the latter."
Given Yahoo's state of turmoil, Mayer's move could be a risky one, but sweeping out the corners might indeed be the only way to get the company on track again. She needed to replace Morse in order to do things her way.
"Mayer's change of guard is smart now that she is leading through innovation rather than margin growth," said Josh Crandall, principal analyst at NetPop Research. "Tim Morse, the previous CFO, was all about cost-cutting to increase margins."
"That doesn't fit with Mayer's product-driven focus," added Crandall. "Ken Goldman will assist Mayer by stressing the need to invest in talent and revenue generation through creation rather than pulling out as much profit as possible from the assets the company currently relies on."
Greater Integration
While Yahoo and Google were unable to work together in the past — antitrust regulators voiced concerns back in 2008 when Yahoo's search market share was higher — Google Chairman Eric Schmidt recently expressed interest in working with Yahoo on search.
Mayer came from Google, so this could be just one possible outcome of her reported efforts to integrate services with other companies. She will likely be building bridges toward this end for the foreseeable future.
"With age comes wisdom. I think that staying on the road for a few more months is a smart decision," Crandall told the E-Commerce Times.
At the same time, rebuilding the brand and reorganizing the company are crucial.
"The next hurdle for Mayer will be adding specifics to the product plan and rallying the rest of the company around her priorities — something which the last few regimes haven't been able to do effectively," added Crandall.
Getting the right team together should be at the top of her agenda, said Sterling — especially recruiting talent to develop Yahoo's strategy for tablets and other mobile devices.
Even little things could a long way in bringing stability to a company that has seen little for several years.
"It's way too early to tell if she'll have success," Sterling remarked, but "so far, she's had a positive impact on morale and the market's perception of the company."