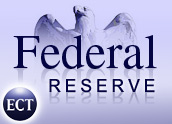 U.S. stock markets were stuck in neutral Monday as the major indexes changed little on low volume. It may have been a welcome breather to investors after a miserable end to the previous week drove the Dow and Nasdaq to fresh lows for 2004.
After trading in a narrow range all sessions, stocks finished mixed, with the Dow down less than a single point to 9,814.66, the Nasdaq down 2.25 points to 1,774.64 and the S&P 500 gaining 1.25 points to close at 1,065.22.
Stocks ended the session where they started the week — at or near their lowest levels since 2004 began. The market dipped sharply Friday after disappointing July employment numbers from the U.S. Labor Department.
Waiting for the Fed
Mondays lull may be the start of an extended end-of-summer slowdown, or investors may have been keeping to the sidelines as the Federal Reserve Open Market Committee gathers to meet tomorrow. A sell-off late in the day erased some early gains, and high oil prices continued to cause concern.
The Fed is widely expected to raise interest rates another quarter point to 1.5, despite the recent economic news.
Stocks dropped Friday after a report from the Department of Labor revealed that the economy added only 32,000 new jobs in July, sharply lower than predicted and the second straight month of poor jobs numbers.
Jobs and Rates
By law the Federal Reserve has two purposes: to check unemployment and curb inflation. With inflation rising, some economists say the Fed must continue to raise rates.
The jobs data released Friday, however, throws a monkey wrench into the works. Although the central bank is still likely to raise rates Tuesday, the pace of future hikes is expected to slow.
Just a week ago, most analysts predicted that the Fed would raise rates at each of its remaining four meetings in 2004. Many now say that the economic softness will cause the Fed to avoid raising rates again until after the November 2 Presidential election.
As always, investors will be interested in the Feds statement Tuesday about how it will proceed. Many economists now believe a third rate hike that had been expected in September may not materialize because of the economic softness.
Oil Worries
Meanwhile, oil prices continues to be a concern and likely kept markets from posting at least modest gains on Monday. Crude futures spiked again Monday, setting an intraday record in New York trading – the seventh straight trading session that a record was reached. Oil prices hovered just below $45 per barrel as some Iraq oil fields were taken offline amid the threat of violence from extremists.
Iraq's Southern Oil stopped pumping after militias threatened to its facilities. Southern Iraq has the country's only working oil facilities. Repeated attacks have cut off the country's pipeline in the north.
Supply has been a concern most of the summer, with many investors betting that any significant disruption in supply – from terrorism or the failure of Russias Yukos, which faces bankruptcy – will send prices sharply higher.