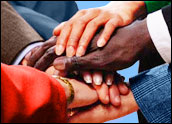 President Barack Obama, Secretary of State John Kerry, and other senior White House officials on Monday met with a group of executives who pledged their companies' support for the administration's efforts to reach a strong climate change agreement in Paris this December.
Thirteen major companies — Alcoa, Apple, Bank of America, Berkshire Hathaway Energy, Cargill, Coca-Cola, General Motors, Goldman Sachs, Google, Microsoft, PepsiCo, UPS and Walmart — signed the American Business Act on Climate Change.
Combined, the firms' 2014 revenues came to more than US$1.3 trillion, and their current market capitalization is around $2.5 trillion.
By signing the American Business Act on Climate Change pledge, the companies agreed to voice support for a strong Paris outcome, demonstrate an ongoing commitment to climate action, and set an example for their respective peers.
The initiative could generate $140 billion or more in new low-carbon investments, along with more than 1,600 megawatts of new renewable energy, the White House claimed.
Business Pledges
The companies that have committed to the American Business Act on Climate Change already have announced the progress each has made. Apple is already running all of its U.S. operations on 100 percent renewable energy, and it will bring an estimated 280 megawatts of clean power generation online by the end of 2016, with investments in five states as well as Sichuan Province in China.
"Apple, for one, has already done quite a bit in the way of reducing their carbon footprint, under Lisa Jackson's leadership," said Michael E. Mann, director of the Earth System Science Center at Penn State University. Jackson, a former EPA administrator, now heads Apple's sustainability division.
Despite Apple's efforts, which could lead to other companies following suit, there is still much it — and other businesses — could do, he added.
"A substantial chunk of the carbon footprint of large companies is tied up in the efficiency of the shipping and supply chain," Mann told the E-Commerce Times. "Apple, for example, could still further decrease their carbon footprint through a focus on that component."
Corporate Momentum
As the 13 companies already are involved in efforts to reduce the carbon footprint and combat climate change, what's to be gained by these businesses making the pledge?
"This type of initiative is mostly educational," said Roger Kay, principal analyst at Endpoint Technologies Associates.
"In order to get any movement at all on climate change, leadership companies need to help raise awareness of it and begin to tilt the dialog away from a useless debate on whether or not climate change is human-caused or even exists — and begin to demonstrate measures that can be taken to mitigate it," he told the E-Commerce Times.
"In reality, a whole lot more will have to be done to stave off a disaster not that far down the road," Kay added, "but these are good initial steps."
There could be other reasons the companies to sign on, apart from the photo ops and press coverage.
"When your peers are jumping on an initiative, you don't want to be left behind — so part of this is a me-too thing," suggested Kevin Paul Scott, cofounder of ADDO Worldwide.
"These businesses want to connect with their consumers and to communicate that they care about issues beyond profit," Scott told the E-Commerce Times.
"The bigger picture is that they want to communicate their value to consumers and show they are making a positive impact on the world," he added. "Do these companies care about climate change in particular? They don't care about climate change as much as being part of the group of companies that is trying to do something about it."
The Sexy Topic
Of the companies that made the pledge, it should be noted that many have corporate headquarters — or at least, offices — in California, which currently is suffering through one of the worst droughts in its history.
"The Obama administration is championing climate change, so these companies have decided they'll be a part of this issue," said ADDO's Scott, "but you have to question whether the secretary of state should be tackling this issue with all the other problems in the world. Climate change is the sexy topic right now."
To what degree the companies are engaging in substantive actions versus public relations is debatable.
"I'm not saying they don't care about the issue, but they care because they are told to care," commented Scott. "In the past, PR teams talked about products and services. Now, those PR teams talk about all the good things the companies do — even when it has nothing to do with services or product offerings. The average PR team for a business sends out releases that you'd think came from a nonprofit organization."
Benefits of Clean Energy Economy
Despite the image-building, there's an argument that any efforts to go green should be applauded.
"We all benefit from a clean energy economy, and Apple and other companies that are putting increased emphasis on sustainable practices are rightfully getting some good PR and good press for the effort," said Penn State's Mann.
If every Fortune 500 company were to follow Apple's lead, the result would be a sizable reduction in their collective carbon footprint, he noted.
"In the long run, a switch to clean energy will probably save them — and their shareholders — money," Mann pointed out. "Finally, by acting to preserve the health of our planet, Apple and other companies are arguably acting in the fiduciary interest of their shareholders."