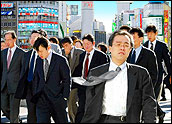 Japan's Livedoor, the company that took the country's Internet sector by storm only to have its business practices called into question, finds itself facing new threats to the survival of its business this week.
The Tokyo Stock Exchange (TSE) said Monday it would delist the stocks of both Livedoor and its subsidiary Livedoor Marketing from its Mothers market — set aside for new economy startups — as of April 14.
The one-month grace period was seen as a chance for any remaining investors to cash out their stakes in Livedoor. There may be relatively few of those, however, as Livedoor has shed some 91 percent of its market value since its officers were raided by police and prosecutors in mid-January.
Delisting is well known among U.S. Internet company watchers, who saw dozens of dot-coms go through the process, often as a way station on the way to bankruptcy or a fire sale. Delisting makes it difficult, though not impossible, for a company to quickly raise cash needed to reorganize and start the move away from past troubles.
The move would be just the latest development in the scandal since it broke in January, when it not only caused a plunge in Livedoor shares but also caused the Tokyo stock market to fall so fast that trading had to be halted for the first time in some 20 years. Later, an executive who worked with one of Livedoor's Internet partners was found dead — an apparent suicide.
More Charges
News of the delisting came after the company's president and four others were served notice they would face new charges in connection with alleged accounting fraud at the dot-com.
Japan's Securities and Exchange Surveillance Commission on Monday filed a second complaint against Livedoor founder and President Takafumi Horie and four other executives, saying they overstated earnings by as much as 5 billion yen, or US$42 million. The five are accused of telling investors they had earned a sizeable profit when, in fact, they had recorded a loss in the quarter that ended in September of 2004.
To date, investigators' main focus has been Livedoor's acquisitions and how it accounted for revenue from the several purchases it made as it moved into new online service areas. Livedoor specializes in selling tickets to live concerts and other events and also offers online stock trading. Its marketing subsidiary provides interactive advertising services.
The new charges bolster weeks of speculation that the accounting issues may run deeper than those tied to the acquisitions.
The Five executives that have been arrested include Horie, as well as the former president of Livedoor Marketing and the former head of finance at Livedoor.
Horie has become the face of the company on the way down, much as he was the image of the Internet sector in Japan on the way up. He became a national celebrity last year when he tried to stage a hostile takeover of Fuji Television Network's radio network. The brash young executive has long flown in the face of the typically conservative Japanese business sector.
Echoes of the Past
While the specific allegations are different in each case, Livedoor is far from alone in dealing with accounting and fraud-related issues. Canada's Nortel, the Internet and telecom gear maker, just last week said it would restate more earnings after believing it had put its accounting problems behind it.
Livedoor may be guilty of trying to do too much too soon, Forrester Research analyst Charlene Li told the E-Commerce Times.
"They were hoping to become what AOL was supposed to be when it made the Time Warner deal six years ago," Li said. "They saw the opportunities for convergence, saw where advertising across media was headed and wanted to be the first to get there."
Livedoor's approach to getting there and the in-your-face style of Horie may have brought more attention to the firm than it needed — especially if it is guilty of playing fast-and-loose with rules, Li added.