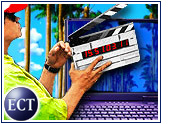 Since its October 24th release, Apple's latest iteration of its BSD-based OS X software, version 10.3 or "Panther," has received more plaudits than pans throughout the high-tech community.
Indeed, aside from a couple of initial glitches, including a hard drive-damaging flaw that has since been fixed, the launch has been seen as a highly positive development. BusinessWeek technology columnist Stephen Wildstrom called Panther "the best operating system available to consumers." And on the eve of Panther's release, The Wall Street Journal tech columnist Walter Mossberg wrote that Panther "can network easily with Windows computers and is packed with lots of other cool features, some of which Windows can't match." That compatibility could help the new OS play well in the enterprise.
Chris Bourdon, Apple's senior product line manager for Mac OS X, seems extremely pleased by the response to Panther desktop.
"It's great to see people recognizing our OS and our hardware," he told the E-Commerce Times. "Our goal is to make the best desktop computers and operating system we can make."
Panther or Cheetah?
Although Apple used "Cheetah" as its code name for Mac OS 10.0.X, perhaps it should consider nicknaming Panther "Cheetah II." Bryan Chaffin, publisher of Web site The Mac Observer, told the E-Commerce Times that his favorite new feature in Panther is its speed.
"Panther is now as fast as any previous version of the Mac OS, and from a perceptual standpoint that's an important hurdle for Apple to have cleared," Chaffin said.
He did point out, however, that the primary speed issues in earlier versions of OS X were GUI-related.
"Menu items and the Finder appeared slow in previous versions of Mac OS X, but the OS itself did its work very fast," he explained. "Now all of the GUI items are just as fast as the OS itself."
Indeed, though Bourdon said Apple developers worked on responsiveness throughout the new OS, he noted that the Panther speed boost is especially noticeable in such areas as the revamped Finder's search performance.
Increased Usability
IDC research manager Roger Kay agreed that Panther is a great desktop system.
"It's virtually unbreakable, hacker-resistant, has some great tools. It has the trademark Apple thoughtful design," he told the E-Commerce Times.
With Panther, Apple has added about 150 new features, including Expose, which allows users to easily manipulate windows on the desktop (and seemingly can make windows disappear with one touch of a button); FileVault, which lets users safeguard their Home Directory using 128-bit AES (Advanced Encryption Standard) encryption; and the newly designed Finder, which takes advantage of the intuitive design of Apple's iTunes Music Store.
"People get [the new Finder] immediately," Bourdon said. Hard drives, networks and important folders sit on the left sidebar, which works as an anchor point to help users find things quickly.
However, not everyone is pleased with the new Finder. Longtime Mac writer Andy Ihnatko described it as "a bad iApp translation" in a recent Mac Observer column. And this writer, who recently upgraded to Panther, misses the "Favorites" button, which collected frequently used folders in an easily accessible place.
Windows Rendezvous
In addition to other tweaks and upgrades, Apple has continued to improve Rendezvous performance with its latest release. Bourdon said automatic IP configuration and discovery now are built in, making it easy for users to discover file and print servers on a mixed network and for Safari, Apple's Web browser, to find other Web servers.
"Since OS X was first being developed, we've adopted an open-standards approach to everything," he noted. By doing so, the Mac OS, which in earlier days was considered among the most proprietary of systems, has increased its compatibility and interoperability to a dramatic degree.
As a result, Panther users on a mixed network can easily share files and Server Message Block (SMB) protocols. They can print to a printer hooked up to a Windows machine or, conversely, can have a Windows machine print to a Mac-connected printer.
Great Follow-Through
IDC analyst Kay said Panther's networking features are a benefit for people who prefer using Mac OS as a client platform. "It's a fairly civilized client," he said. "If you like Mac, you can use it. If you don't, you don't."
Kay added that he is impressed by the operating system's application compatibility. He noted that both Macs and PCs generate the same Microsoft Office files and that each can read the other's files, even if those files contain quirky macros or strange formatting.
"I've tried several of these features myself, and [they are] actual conveniences more than a promise of that," he said. "Apple has really followed through with this release."