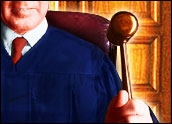 A judge has ruled in YouTube's favor regarding the video-sharing site's three-year battle with Viacom over alleged copyright infringement.
On Wednesday, the U.S. District Court in New York ruled that YouTube had complied with the take-down provisions of the Digital Millennium Copyright Act (DMCA) in its handling of Viacom content and thus was not guilty of copyright infringement.
Google, the parent company of YouTube, hailed the ruling as a victory for "the billions of people around the world who use the Web to communicate and share experiences." Viacom vowed to appeal.
Public advocacy groups also applauded the ruling, saying it preserves the Internet's status as a participatory medium and will encourage continued development of innovative services.
Billion-Dollar Lawsuit
The fight began in 2007 when Viacom filed a US$1 billion lawsuit claiming YouTube had violated federal copyright laws by facilitating the publication of Viacom-owned content on its popular video-posting site. YouTube argued that the take-down provision of the DCMA provided a shield against the type of legal action Viacom was taking.
The DCMA take-down provision holds that content-hosting sites such as YouTube must remove content upon receiving notice from a copyright holder informing that their content has been posted on the site without permission. If the host complies with the notice, they cannot be sued for copyright infringement, according to the act.
In ruling in favor of YouTube, the court said the site's operators had complied with the DMCA's take-down provisions in regard to all Viacom content. Viacom argued that YouTube should still be held liable because it knew it was posting copyrighted content even before it received Viacom's take-down notices.
Opposing Arguments
"We believe that this ruling by the lower court is fundamentally flawed and contrary to the language of the Digital Millennium Copyright Act (DMCA)," reads a Viacom statement on the matter. "We intend to seek to have these issues before the U.S. Court of Appeals as soon as possible."
Google, however, said the decision follows established judicial consensus that online services are protected when they cooperate with copyright holders. "We're excited about this decision and look forward to renewing our focus on supporting the incredible variety of ideas and expression that billions of people post and watch on YouTube every day around the world," wrote Kent Walker, Google vice president and general counsel, in a company blog post.
The Center for Democracy & Technology is one of several public advocacy groups that sided with YouTube on this issue. "It's just not practical to hold the platform operator — YouTube or anyone else — liable for content as it's going up," Leslie Harris, president of the Center for Democracy & Technology, told the E-Commerce Times. "That puts them in the position of being censors, and it would diminish innovation on the Internet by making companies afraid to develop new services for fear of being sued."
The answer for copyright holders is to police the sites themselves and send notices to the platform operators when they find their content being posted inappropriately, Harris argued. "They have technology that makes it easy to identify their content," she noted. "There also is nothing in this ruling that prevents the content holders from suing the individuals who are actually posting the content. Congress recognized this in passing the DCMA, that it doesn't make sense to make the platform operator liable for major damages every time a user breaks the law."