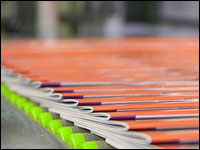 It's difficult to find an industry that has had a harder time transitioning to the digital age than the print news media. It also would be tough to find an industry that inflicted so much damage on itself by making a single bad decision.
When readers started gravitating to electronic platforms, most print publishers responded by porting their existing content to the Web and giving readers free access.
I can't prove it, but I firmly believe that by not charging for their online content at the outset, print publishers gave readers — and more importantly, advertisers — the impression that their product had no value, and they've been paying for that mistake ever since.
It's why advertisers still refuse to pay the equivalent of print rates to advertise online, even though electronic ads allow them to connect with potential customers in ways that print ads never could. It's also why print publishers continue to struggle financially, even as they're starting to see growth in online ad sales.
This dynamic is forcing print publishers to unveil new strategies to rectify their poor initial decision and get readers to start paying for online content. The New York Times made big news this week by launching a paid subscription model for its website, and other publishers have started down this path as well.
Opportunity Is Knocking
The time is right for print publishers to finally succeed at getting readers to pay for content, but there are some things they will need to do correctly to make this strategy work. They'll have to consistently offer quality content, and they must set prices at levels that consumers believe are fair.
The definitions of quality content and fair pricing are both subjective, but publishers will have to meet consumers' expectations in those areas to have a chance at long-term survival.
Two factors are coming together to give print publishers the boost they need to have a chance at succeeding with paid content models:
the emergence of tablet computers; and
consumers' growing willingness to pay for online goods and services they deem to have some value.
The rise of tablets is allowing publishers to deliver products much more like their original print versions, making them easier for consumers to read and thus more likely to attract regular subscribers.
Tablets and smartphones also have helped to break down consumers' reluctance to pay for things online. They've become accustomed to purchasing apps that enrich the experience of using their devices. Thanks to iTunes, consumers are also more comfortable with the idea of paying for — rather than pirating — music online, and that development also is a good sign for print publishers.
The Subscription Economy
The advent of social networking is even working in the publishers' favor. Surely, if people are willing to pay real money for virtual goods that help them advance to the next level in online games, they'll fork over a few bucks a month to read quality news and feature articles.
Some e-commerce experts cite these developments as evidence that we are now in a "subscription economy." Tien Tzuo, a former marketing executive with Salesforce.com, a pioneer in the subscription software business, is among those making that argument.
Tzou left Salesforce.com to start Zuora, a company that helps businesses manage the infrastructure for sending bills and collecting payments from customers who subscribe to services ranging from website management to copying and printing.
It's obvious, considering how he makes his living, that Tzou has an interest in seeing this subscription economy take off. Still, you can't deny he has a point when he argues that Netflix is thriving while DVD sales flounder, because consumers would rather lease movies than buy them.
There is some actual evidence that newspaper readers are amenable to paying for online subscriptions. Journalism Online, a two-year-old company that manages the paid content functions for a string of mostly medium-sized newspaper across the country (acquired last week by R.R. Donnelley), recently reported that its clients saw very little customer attrition as a result of charging for content.
The Porous Paywall
It's interesting to note, however, that Journalism Online advised its clients to set up what is known as a "porous paywall." Under that model, users are allowed to view a certain number of articles free each month, with charges kicking in only after they exceed that limit.
"If you set this meter conservatively, which we urge people to do, it's a non-event for 85 percent to 95 percent of the people who come to your site," Journalism Online Co-Founder Steven Brill told The New York Times early this year.
Apparently, the Times' management team took Brill's words to heart, because its new subscription model is built around a porous pay wall that allows readers to view 20 articles per month before they have to start ponying up.
Any reader who wants to click on the 21st article will have to sign up for a subscription, which starts at roughly US$15 per month. There are ways to circumvent the system that I won't get into. I will note that Times executives have echoed Brill's remarks that the pay wall won't be an issue for the majority of its online readers, but will likely be a reliable source of revenue from the site's most loyal readers.
Pricing Debate
I still think that depends on whether those readers believe the Times' content is worth at least $15 a month. There was a mini debate about that in the comments section of an article outlining the plan on the Times site.
One reader said $15 was the cost of two McDonald's lunches and well worth the privilege of having full access to the online version of the Times. A second reader said the price was too high, and it was obvious that the Times was catering to the elite.
That second reader might be happier subscribing to The Daily, an online newspaper recently launched by News Corp. The Daily has a completely closed pay wall, but it offers subscriptions for 99 cents per week or $39.99 per year. Of course, it's only available on the iPad, which some people might think put that product in an elite class.
Print publishers have no choice but to move to pay models. It's clear that offering their products for free has not worked for them financially. It also seems clear that readers are now amenable to some type of paid content model.
What we don't yet is which formula — the one adopted by the Times or the one chosen by News Corp. — is best for seizing what appears to be a golden opportunity.