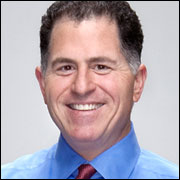 Following the revised buyout offer from Michael Dell and investment firm Silver Lake last week, a special committee of Dell's board of directors announced on Wednesday that it has rejected a key part of it.
Specifically, the committee refused to accept the part of the new offer by which only shares that are actually voted would be counted in the final decision. That rule change was the primary condition for an increase of 10 cents per share in the financial part of the offer.
About 27 percent of Dell's shares are typically not voted and therefore count as "no" votes under the current rules.
A New Record Date
"The Committee is not prepared to accept your proposal," read the special committee's Tuesday letter in response. "We are, however, willing to establish a new record date for a vote on a $13.75 per share transaction under the existing voting standard."
A new record date would enable shareholders who bought their shares after June 3, 2013, to vote on the transaction, the group explained, "while giving all shareholders more time to reflect on where their best interests lie in light of the improved offer."
The committee is prepared to proceed with a vote on the existing US$13.65-per-share transaction at a special meeting to be reconvened on Friday, Aug. 2, it said.
Dell declined to provide further details.
'Corporate Horse Trading'
"What we're seeing here is an example of corporate horse trading, with the Dell board offering considerably less than Michael Dell and Silver Lake requested," Charles King, principal analyst at Pund-IT, told the E-Commerce Times. "Basically, Dell and Silver Lake realized that the original rules they agreed to — where abstaining shareholders are counted as 'no' votes — were far more restrictive then they assumed."
As for the board, it "analyzed current holder base versus that used in record date mailing and realized that much of the ownership shifted recently to arbitrage funds," Igor Stenmark, managing director at MGI Research, told the E-Commerce Times. "If that is in fact the case, then this would give Michael Dell a tactical advantage."
Though his rules change has been denied, "Michael Dell's chances are still good," Stenmark opined. "Lots of posturing going on by all parties. A new record date allows the board to sidestep the fight with Carl Icahn."
Icahn's Ire
Indeed, Carl Icahn is still the other wild card in this ongoing saga, and earlier this week he issued an open letter to Dell's special committee stating that he's against both the rule change and any alteration of record date.
"The Dell board's compromise is certain to attract his ire," said King. "Then again, getting anything less than 100 percent of his own way seems to attract Icahn's ire, so additional public nattering will be entirely unsurprising."
Which side will prevail, however, is still anyone's guess, King said.
"The board's refusal of his rule change request is a setback for Michael Dell, but a new record date offers him some wiggle room," King suggested. "Some would claim that this latest development has put Icahn in a better position, but people who are counting say he has far fewer votes than he'll need to win a proxy fight."
At the end of the day, a third option could also arise, King pointed out: "If neither Michael Dell nor Carl Icahn can muster the votes they need to move their plans forward, Dell will simply continue as a publicly traded company."
'It Can't Be Good'
Regardless of where things proceed from here, however, there's little doubt that Dell as a brand is unlikely to benefit from all the contention.
"The longer they delay, the worse it is," Craig Stice, senior principal analyst for compute platforms at IHS iSuppli, told the E-Commerce Times. "It can't be good for the company. They may not lose customers, but it could be putting thoughts in the back of the mind."
In the meantime, "the key thing to remember amidst all the public melodrama is that it hasn't had any material impact on Dell's solutions and services," King pointed out. "The company is still making terrific products and continuing to evolve as an end-to-end systems vendor."