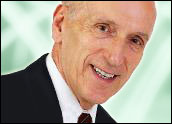 We've all heard of YouTube and MySpace, but there's a new and exciting social networking site: itLinkz.com. What makes this site unique is that it will contain hundreds of sites that target specific market segments.
The sites will allow you to choose and participate in a unique, virtual community. With this approach, itLinkz brings differentiation and market segmentation to the social networking craze. There will be sites, for example, for specific professions, social groups and hobbyists.
Filling a Vacuum
Certainly, young adults have been a driving force for online social networking, taking full advantage of the evolution of the Web from Web 1.0 to Web 2.0. The newly evolved capabilities of the Web have brought us true online collaboration and interaction. It has taken the organization of information and people to a whole new level.
---

Listen to Ted di Stefano (8:44 minutes)
---
Photos and videos are being shared with friends and strangers. Bloggers are telling their stories to the world. News sites have popped up where the "reporters" are ordinary men and women — the general public. This has brought a new meaning to "breaking news" in that an individual can capture a sensational news event on his cell phone camera and then e-mail it to a blog site.
This type of news blogging has become so pervasive and respectable that the "legitimate" news agencies are constantly monitoring the bloggers for breaking news.
'MySpace for Adults'
Until very recently, however, a vacuum still existed in the biosphere of the Web 2.0. That vacuum was due to a lack of differentiation. Many of the participants in MySpace and YouTube had one thing in common — they were young. Other than that factor, they were not truly differentiated.
Along comes itLinkz with a brand new way of looking at things. Its founder and CEO, entrepreneur Jeremy Feakins, realized that there was a need for more distinct social groups on the Web. He then registered 5,000 domain names with plans to launch 500 vertically integrated Web sites.
"This is a sort of MySpace for adults, hobbyists, professionals, workers and people who want to participate in a specific, tightly-defined community," Jeremy told me. "It empowers the individual to exercise more choice in deciding which online social networks he/she should join."
Jeremy, long active in horsing circles, has his own unique manner of describing itLinkz: "I took the best of breed and rolled them up into individual sites — meaning that I took the best of the Web 2.0 social networking sites and included those functions into our sites. That makes our sites totally unique in that each site will have a full range of functionality such as video, photograph sharing, news, blogs, careers and friends."
(Incidentally, I have been working with itLinkz and Jeremy as the company's financial adviser, guiding it until it becomes listed and publicly traded later this year.)
Mobile Technology Applications
Here comes the really exciting part. Besides having unique software applications, itLinkz has, at its core, a platform that has a proprietary bundle of patentable technology. This technology has many applications, including the ability to link mobile members to itLinkz in a very special way.
For example, all of the specific itLinkz communities will have mobile applications whereby your cell phone can automatically be called to remind you of an anniversary, birthday, doctor's appointment or any other kind of social engagement. To this end, itLinkz will soon launch CalendarLinkup and BirthdayLinkup.
The reminders that you will get via your cell phone will make it easier for you to fulfill your obligations. For example, if a reminder pops up that tells you it's your wedding anniversary, you can click on a link that will take you directly to a site where you can order flowers for your spouse. Remarkable!
You truly become part of a social community and network that looks to fill your specific needs. Being part of your unique community, you will also be able to participate in video chats with your online friends and associates.
Community Connections
Because of these mobile technology applications, you will always be connected with your "community." This means that you can participate with your group of associates even when you're away from your computer. So wherever you are, you can be inputting voice, video, photos or just plain messages and blogs. In this sense, you are never "away from home."
The first of many sites to be launched by itLinkz went on the Internet on Feb. 1. It is called NurseLinkup.com. This is a totally interactive site where a nurse can register at no charge and can get the latest nursing news and nursing opportunities, can chat with other nurses, and can review a broad range of benefits that are available — just for nurses.
The site is now available to nurses all over the world. So, if for some reason you wanted to emigrate, you could chat with overseas friends to determine what nursing opportunities are available in their countries. It truly makes the nursing world a much smaller place where you can readily interact with your colleagues.
Marketing Revenue
Companies are hard put to segment their markets and to target advertising dollars to a very discrete "slice" of potential customers. itLinkz permits companies to do just that. In fact, marketing revenue drives the company's business plan.
More and more companies are currently opting to advertise on Web 2.0 platforms. The market is still largely untapped because Web 2.0 is an emerging concept. Still, academics have recently opined that Web 2.0 is no passing phenomenon. It is here to stay and will only keep growing.
Targeting very specific and unique market segments has always been a marketer's dream. Web 2.0 and companies like itLinkz make this possible.
About this very subject, Jeremy Feakins says: "We have already been contacted by major players in the communications field. They are looking to affiliate with us in order to increase their participation in the evolving Internet that allows so much interaction and collaboration by the various participating communities. Companies have been excited about being able to tightly target specific market segments and now they can do just that."
This is an exciting time for the Internet and Web 2.0. Virtual communities of millions of people are coming together on the Web. It's a whole new type of "existence," and it's going to be fun to watch this all unfold.
Good Luck!
---
Theodore F. di Stefano
is a founder and managing partner at
Capital Source Partners
, which provides a wide range of investment banking services to the small and medium-sized business. He is also a frequent speaker to business groups on financial and corporate governance matters. He can be contacted at
[email protected]
.
---