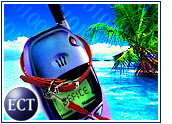 Over the last several months the U.S. economy has shown signs of improvement. John Challenger, CEO of outplacement consulting firm Challenger, Gray & Christmas, told the E-Commerce Times that there has been a 50 percent drop in high tech job cuts from last year.
However, the IT job terrain has changed irreversibly from its high point of a few years ago. Certain career paths are increasingly being outsourced or eliminated altogether, and out-of-work employees will need to adapt if they want to return to being productive members of the high tech workforce.
Meanwhile, small and medium businesses (SMBs) are increasingly acknowledging the role that IT plays in their respective business models. SMBs make up 99 percent of all U.S. businesses and employ about 50 percent of U.S. workers, Helen Chan, senior SMB analyst at the Yankee Group, told the E-Commerce Times. "Just because these businesses are small," she said, "doesn't mean that they do not have a big influence" on the job market.
From Cost to Value
Yankee Group senior analyst Carrie Lewis, who focuses on the large enterprise job market, told the E-Commerce Times that before the recent upswing, companies focused on reducing cost structure rather than on building higher value. Now companies are making an incremental shift from cost to value.
"We are just beginning to see companies pay attention to retooling the work force as the economy picks up, and hiring picks up because they know they will face a situation where again there is a shortage of workers," Lewis said. "It costs [these companies] less to retrain, and we're just beginning to hear of companies beginning to implement these changes and build higher value out of workers."
Core Needs
At the same time, lower value tasks, such as writing code, application development and infrastructure development, are increasingly being offshored because they are not perceived in large companies to be core business processes, Lewis said. For their money, companies can hire highly-trained workers from India and Eastern Europe for half of what they would need to pay U.S. workers. As a result, more and more of these Fortune 1,000 companies are eliminating these types of jobs.
Challenger concurred that the more formulaic, repetitive work is particularly vulnerable and that much of it has moved overseas. He cited Web design as a sort of mixed example, in which the creative portion of the work remains here, while the development and programming of Web sites could be offshored.
Lewis said that large companies want their IT workers to prepare for jobs with greater complexity, such as business process engineering and other services closer to the heart of the organization. These core business needs involve expertise in vertical markets like healthcare and financial services.
Cultural Considerations
At the same time, Challenger said, cultural and translation issues will prevent areas like application development from being outsourced overseas entirely.
"Some companies get frustrated with the fact that people in another country don't understand the culture," Challenger said. "Something gets lost in translation" and then the offshore workers aren't right there to make adjustments to the work.
Challenger also believes that certain positions — like those in computer operations — can't easily be moved overseas. "If your servers go down, do you want to have to call New Zealand to get outside expertise?"
Systems engineers must be onsite in a lot of cases. "These jobs often require someone who understands, can talk to people and can adapt to their needs."
Wearing Many Hats
Yankee analyst Chan said that an SMB usually needs at least one person on hand to handle IT issues even if it doesn't have a full IT staff. Generally that translates into one or two people wearing multiple job hats. These people might be designated as having technical ability even though they might have gotten their jobs because of their accounting abilities, for example.
As a result, very small businesses — those with fewer than 50 employees — often have to think hard before laying off someone. If you lay off one person, you're laying off three different functions, Chan said.
Often small businesses offshore more sophisticated IT tasks, including network configuration. However, unlike Fortune 1,000 companies, these SMBs outsource locally, Chan said. A local business in Kansas City will contact the Kansas City IT expert for help with implementing or upgrading its network.
Widespread Growth
Despite the variances in job growth in certain specialties, Challenger said that certain areas promise to remain strong across the board.
For example, the information security field has turned out to be recession-proof as more companies become aware of the hazards of unsecured networks and as they seek to upgrade the security of their systems and data by setting up and managing more sophisticated firewalls and other precautions.
Challenger also singled out the burgeoning wireless space as a strong growth area, as businesses increasingly turn to wireless networks.