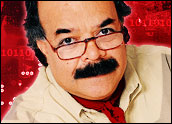 Your logo is not that important these days, as most customers have no motivation to remember the subtle intricacies or bizarre approaches to logos that are intended to stimulate demand. They are already flooded with colorful graphic look-alikes and continuously regenerated blasts from every corner.
Today's customers are in need of a simple name to follow and remember until the next time a need arises.
Names have replaced logos and have dramatically changed the rules of corporate and product branding.
New Challenges
Corporations, which have heavily relied on graphic design, logos and too many colorful themes while ignoring the real names, are facing some new challenges. As the logos have lost their power, the companies now have to reinforce their ignored name as a solo warrior. Previously, names were basically seen in print; today they are mainly typed in cyberspace.
So what good are names if your customers can't see, hear or speak about them, and what good are the products and services if they are invisible?
What is quickly killing big branding is the dramatic impact of e-commerce and how a marketing message is delivered to the end user today. Gone are the days of big budget billboards and massive blitzes in print with the constant hammering of fancy corporate logos supported by extensive graphic treatments as the main selling proposition.
Test 1 – Can They Really See You?
Type your business name on Google — and it matters not if that name is of a corporation, product or service, because when a name is used in business, it better stand up to the heat and bring you new cash in sales, or else.
If your search results prove that there are a few dozen other identical names, then obviously your sales are going different places. Now, if your name has hundreds of identical and thousands of similar names in the marketplace, then you have a critical problem. Your customers can't see you. Period.
Big branding has been taken over by fluid Web pages and powerful URLs. If viewers can't see you or find you easily, then it is a serious crisis for your corporation. Between you and them, all you have is a name, and if they can't see it, you simply wait in the dark.
Test 2 – Can They Clearly Hear?
Talk, whisper or yell out your names to your customers, colleagues, friends or strangers — preferably they never heard these names before. Collect their thoughts and their perceptions against your marketing messages to see if the name is correctly projecting your goals or simply scaring them away.
If your customers do not get a clear audio signal, then the mind simply ignores these types of names and shuts them out. With so much chit chat on cell phones and so much voice over the Internet today, if a name is not precise and clearly audible, then it is only noise to deaf ears.
Test 3 – Will They Talk About It?
Write the name in capital letters and see how many different ways it can be spelled. Here you might find some serious flaws in its alpha-structure, whereby a supposedly great and creatively good name continuously gets confused and is either lost in spelling or the customer forgets that there is a dash or a slash in between. Sometimes, overly dramatic graphic renderings do not go along with the name in a simple typed image, creating confusion.
If customers are not connected with the name, and its latent message is not directly related to their needs, they will not chat about it. They simply shut it out. No budget can force them to do otherwise. No name, no game.
If any of the above applies to your names, than you have a critical marketing problem, and no amount of branding will secure the desired positioning in the customer's mind. Be assured, you are also not the only one with these problems, as 90 percent of business names have very serious limitations, burdened with extra luggage often unknown to the corporation. Sales and marketing suffers while branding budgets go down the drain.
One Single Solution
True, you do need some typeface for your name, and you can easily append a circle or a square or a triangle or a combination thereof and you can select one, two or several colors to go along. That's all that logos are good for now. The more simple the solution, the better. No need to study six months and interview the entire city on whether a circle is better than a square.
Get a professional evaluation carried out strictly under the laws of corporate naming, and nothing less. Forget about how and where you got the name or how much you have spent. Simply concentrate on the facts. How diluted is it? How confusing is it? How many ways can it be spelled, and what is its long-term future?
Create an open debate and use the latest technologies to solve the issues. The big branding circus and the traditional name generation practices are often the traps that bring about all these problems.
Remember, names can be fixed very easily; all you need is to recognize the problem and follow the strictest rules and the laws of corporate naming so not to repeat the problems. Big logos will not solve your marketing challenges.
---
Naseem Javed
, author
Naming for Power
and also
Domain Wars
, is recognized as a world authority on global nameidentities and domain issues. Javed founded ABC Namebank, aconsultancy he established a quarter century ago, and conducts executiveworkshops on image and name identity issues. Contact him at
[email protected]
.
---