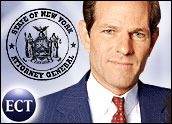 Intermix Media said it has struck a tentative agreement with New York state Attorney General Eliot Spitzer to settle charges that the company used its network of Web sites and freeware downloads to distribute adware and spyware programs to unknowing consumers.
Intermix said it agreed to pay US$7.5 million to the state of New York over the next three years. It also agreed to permanently stop distributing its adware, redirect and toolbar programs, freeware that Intermix had stopped offering on its own recently. The Los Angeles-based company said the agreement does not include an admission of wrongdoing or liability.
"We are pleased to announce an agreement in principle that should allow for an amicable resolution of this matter," Intermix CEO Richard Rosenblatt said. "Our mandate was to remove this obstacle to the company's continued upward trend and to place this legacy business and related issues behind us."
Chief Privacy Officer
In addition to the terms of the settlement, Intermix noted that since first being told by Spitzer's office that an investigation was under way, the company has created the position of chief privacy officer, though it has yet to fill the slot. It has also joined the Network Advertising Initiative (NAI), which is developing self-regulatory guidelines for online advertisers.
Spitzer's office said the final details of a proposed settlement are still being hammered out but that regulators are hopeful a deal can be reached.
The Intermix case had been closely watched because it represented the first attempt by law enforcement to crack down on spyware and because Intermix was seen as exhibiting much of the same behavior as hosts of other online marketing companies that use social networking, freeware and other Web sites to drive revenues.
Intermix has said that its freeware business, which offered users search toolbars and other browser add-ons, was a legacy from earlier acquisitions and that it did not consider those initiatives as being central to its overall business plan.
Investors cheered the settlement, which was announced as Intermix also released strong quarterly earnings and raised its outlook for the year, calling for annual sales growth of nearly 50 percent.
The company's shares gained more than 11 percent yesterday and were higher by more than 3 percent in early trading today to $7.03. The stock is trading much closer to its 52-week high of $9 than its yearly low of less than $2, a function of the overall interest in online marketing and advertising companies.
Analysts said it was important for Intermix to put the case behind it as quickly as it could to avoid being tainted by the allegations and lose the ability to attract top-shelf clients for its marketing programs.
Think Equity Partners analyst John Tinker said clearing the suit could make way for Intermix to grow rapidly. He said the firm turned in a "particularly impressive quarter" and that the spyware investigation was the "main overhang" to additional growth.
Next Target?
In Congress, lawmakers are again weighing the I-SPY act, which would put harsh penalties in place for purveyors of spyware, but which the interactive marketing industry in lobbying against as being too broad.
The Federal Trade Commission (FTC) also has targeted a freeware distributor, charging the makers of the Spyware Assassin program with distributing a program it claimed would eliminate spyware but apparently did not work.
Because of the nature of the company involved, the case against Intermix was considered a bellwether. Spitzer's office had acknowledged that the investigation had uncovered numerous leads, raising the possibility that other companies would find themselves in the ambitious attorney general's crosshairs.
Spyware of all stripes has quickly risen to be on par with spam and viruses as computer security scourges, with regulators, lawmakers and PC security software makers all pledging to eradicate it.
However, at the same time, the definition of spyware is still very much in dispute. While true spyware tracks a user's actions, recording keystrokes for instance, and transmits that data to a third party — information such as bank account numbers can theoretically be stolen that way — spyware programs often target numerous other freeware programs.
Those include any kind of program that also tracks online movements. That includes some toolbar programs, search add-ons and adware, which tracks a user's movements and serves up certain advertisement when it's deemed appropriate.
Companies most likely to find themselves accused of distributing spyware are those that acquired numerous Web sites as part of an effort to build a marketing landscape. For instance, Ask Jeeves has faced questions about some of the smaller Web sites it has purchased.
Wider-Reaching Implications
The Intermix case could have further implications and touch some of the largest online companies. For instance, Yahoo is tied to Intermix through Overture, which Yahoo now owns and which has generated as much as 10 percent of Intermix' annual revenue in the past.
The problem has been quantified in recent months as well, with a report from Webroot Software estimating that the average corporate PC had as many as 20 spyware programs on it and that 90 percent of all consumer-owned machines were infected.
Richard Stiennon, vice president for Threat Research at Webroot, told the E-Commerce Times that spyware can be as simple as tracking cookies installed on a user's machine without his knowledge. By Webroot's count, 144,000 different URLs reviewed at the end of March had some form of adware or spyware on them.
"When you look at the big picture," a number of high-profile marketing sites fall under the spyware and adware umbrella, Stiennon added.