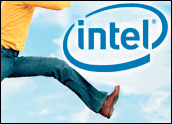 Intel said it will sell off its handheld chip line, the first of what could be several significant changes at the market leading chipmaker as it bids to focus on the most profitable parts of its business.
The company announced Tuesday it had reached an agreement to sell its handheld and mobile communications chip business unit to Marvell Technology Group in a deal worth about US$600 million. The move helps sharpen Intel's focus on chips for PCs and closely related technology, and jettisons a line that was seen as a money-loser for Intel for some time.
The mobile division, which Intel created based largely on acquisitions it made during the 1990s, includes the Xscale chip, which has won its share of customers, with high-profile end uses including in the Palm Treo, the BlackBerry and Motorola's Q phone. Even with those customer victories in hand, however, and even with robust growth forecasts for the smartphone market, Intel's non-core assets look to be more of a drag on its efforts to churn out consistent profits.
The move is seen as the beginning of a bigger push by CEO Paul Otellini to restructure Intel as a leaner, more profitable business, with as much as $1 billion in savings eyed overall. In April, Ottellini said he would reveal his plan for revamping the company within 90 days.
Marvell, a neighbor of Intel's in Santa Clara, Calif., whose major clients include Microsoft, makes wireless chips for the Xbox gaming console. It will take over about 1,400 Intel workers as part of the deal. Investors in that company were skeptical about the deal, sending the firm's shares lower on the news, an acknowledgment of the fierce competition and low profit margins in the cell phone chip space.
Big Plans
Intel shares rebounded slightly, rising more than 2 percent in midday trading Wednesday to $18.48, but are still down more than 20 percent since the start of 2006.
Reports that Intel would sell off some communications chips lines began to surface almost a month ago. Jefferies & Co. analyst John Lau has also predicted extensive job cuts, with between 12 and 17 percent of Intel's 100,000-strong worldwide workforce likely to be whittled away over time.
Though Intel has not revealed details of its plans, reports suggest it has already begun to cut back on production in some overseas plants in targeted chip lines, further emphasizing its focus on chips for desktop and notebook PCs, servers and home entertainment products.
Though it sold the Xscale line that makes chips installed in handsets, Intel is keeping the rights to make chips for other uses, including the emerging WiMax and WiFi wireless broadband standards.
Ottellini announced the restructuring plan after Intel reported earnings for the first quarter and acknowledged significant erosion of its business from number two chipmaker Advanced Micro Devices.
Intel's flash memory business is considered another candidate for action from Ottellini, since that business, which made up about 6 percent of Intel's 2005 sales but also accounted for more than $100 million in losses, is seen having a struggle to become profitable on a consistent basis. AMD handled its own flash memory concerns by spinning off its flash business with Spansion last year.
Gloves Coming Off
Intel hopes a leaner organization and a new batch of products for laptops, servers and desktops, will help it hold off AMD and shake its stock out of a lengthy period of stagnation.
Intel has been seen using pricing to help solidify its market share in recent months, slashing prices both to make room for its next wave of new chipsets and to prevent further erosion to AMD and other competitors.
Intel should have substantial room for improving processes and performance, since the company grew rapidly through acquisition in the 1990s, Mercury Research analyst Dean McCarron said. It also enjoyed unfettered growth for so long that it may not have paid close enough attention to profit margins and costs.
"Intel has received a wake-up call of sorts on its position in the market," McCarron said, noting that Ottellini has pledged a strong response, one that leverages Intel's historic ability to invest more heavily in research and development. "It's begun to answer that challenge with new chips," he added, with more on the way.
The company continues to have much work to do, Standard & Poor's analyst Thomas Smith noted. The sale price of the communications line could indicate it was eager to unload the line quickly, he added.
Still, in a research note, Smith called the move a "a positive follow-through on a strategy to refocus on core competencies" in the PC area, where Intel remains strongest.
Meanwhile, Gartner analyst Martin Reynolds said PC users and enterprise buyers of servers will be the true beneficiaries of the AMD resurgence and Intel's promised response.
"The competition means processor technology will continue to advance at a fast pace," Reynolds said. He predicted faster, cooler and more powerful chips being released on a more aggressive schedule, possibly even faster than the typical useful life expectancy of a corporate server or PC. "The end user will benefit from all this activity."