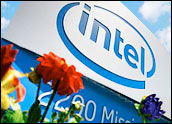 Intel on Monday announced that it will acquire Altera, which makes field-programmable gate array technology, in an all-cash transaction valued at approximately US$16.7 billion. Intel will pay $54 a share for Altera.
The deal paves the way for Intel to develop new classes of products in the data center and Internet of Things market segments.
Altera last year posted revenue of $1.9 billion, generating a $700 million cash flow. Altera's share price jumped nearly 6 percent to close at $51.68 on Monday.
Intel plans to incorporate Altera's FPGA tech and Intel Xeon processors in highly customized, integrated products. It also intends to enhance Altera's products through design and manufacturing improvements. The addition of the FPGA technology will allow Intel to improve performance of its chips with just a slight cost increase, and at the same time allow it to expand its potential market.
"Intel's growth strategy is to expand our core assets into profitable, complementary market segments," said Brian Krzanich, CEO of Intel.
"With this acquisition, we will harness the power of Moore's Law to make the next generation of solutions not just better, but able to do more," he added. "Whether to enable new growth in the network, large cloud data centers or IoT segments, our customers expect better performance at lower costs. This is the promise of Moore's Law and it's the innovation enabled by Intel and Altera joining forces."
The Integration of Things
Intel and Altera have been partners since 2013, and they have learned to understand one another's business. This could ensure a smooth transition.
"At the engineering level, [the partnership] is very deep," said Intel spokesperson Chuck Mulloy. "The staff knows each other, the leadership knows each other, and this should lessen any problems in our integration."
Intel also may have an advantage, because in addition to its core business, its integrated device manufacturing gives it the ability to develop circuits and chips more cost effectively in-house, he told the E-Commerce Times.
"This is no small matter," Mulloy added. "One of our core businesses is building devices for customers that don't have manufacturing capabilities, and we've been working with Altera in this as well."
Intel and Altera are both semiconductor companies at heart, but each has had a different approach to its respective business strategies. However, those differences should be easy to overcome.
"The purchase of Altera should provide Intel with an entry to numerous current and next-gen data center markets and clients," observed Charles King, principal analyst at Pund-IT.
"If you were making a list of important acquisitions for Intel to pursue, Altera would be at or near the top," he told the E-Commerce Times.
Synergy of Ecosystems
Altera's programmable FPGA chips increasingly are being used for cloud computing in data centers, but they could find their way to the growing IoT market through this acquisition. FPGA chips are cheaper and appropriate for a variety of uses, because they can be updated in real time.
"FPGA is one of the areas where Intel can grow its business, and this acquisition locks Altera into Intel's ecosystem," said Jim McGregor, principal analyst at Tirias Research.
"This is the only business [Intel] can go after that has the potential profit margins that Intel needs right now," he told the E-Commerce Times.
"We knew it wasn't over the first time [Altera] said 'no' to an acquisition offer," McGregor said.
"There is always a challenge, and Intel hasn't been the best at [integrating], but hopefully they will take a more proactive approach and won't look at this as a way to simply bump up revenue and their profit margin in the short term," he added.
"Instead, I expect them to take a synergic look at this and really go about it carefully," said McGregor. "This is the sort of deal that needs to have the synergy build over time."