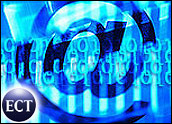 In a deal that links rivals in the mobile operating system space, Symbian said it will work with Microsoft to enable hand-held devices using its operating system to work with the popular Outlook e-mail program.
The licensing deal will enable UK-based Symbian-loaded hand-helds to read e-mail and receive other data from Microsoft's Exchange Server, one of the most widely used software programs to manage messaging environments in enterprises. Terms of the deal were not disclosed.
Symbian Executive Vice President for Marketing Marit Doving said the software link would "help all Symbian OS licensees meet the needs of the enterprise market."
Enhancing Productivity
Doving said there are about 25 million Symbian-loaded phones now in use, 14 million of them activated in the past year alone, and that linking with Microsoft furthers "Symbian's drive to offer the broadest possible choice of e-mail solutions."
Dave Thompson, corporate vice president of Microsoft's Exchange Server Product Group, said the goal of the hookup is to "enhance end-user productivity and drive innovation in the mobile industry with an easy-to-implement, wireless e-mail solution designed to lower IT costs."
"Symbian and Microsoft together are significantly expanding the number of customers who can directly access their corporate e-mail and other data from wireless devices," Thompson added.
Symbian competes directly with — and to date has largely outdistanced — Microsoft's Windows Mobile OS for supremacy in the rapidly growing smartphone market. This deal helps Microsoft's Exchange Server business gain access to vast numbers of mobile device users, but also gives Symbian access to a functionality it lacked and was one of the competitive advantages that Windows Mobile enjoyed.
Friends and Enemies
The move is a departure from the competitive posture the two companies had adopted and is seen by analysts as a move aimed at blocking Research in Motion's Blackberry from taking over mobile e-mail dominance within the enterprise.
Most enterprises use Blackberry Connect software and a synchronization program to connect the mobile e-mail server to a standard enterprise offering such as Outlook. By bridging that gap, Microsoft and Symbian might convince more potential customers not to adopt the Blackberry as their mobile e-mail standard.
Frost & Sullivan analyst Brent Iadarola said business professionals want full access to e-mail from their mobile devices but enterprises have not yet figured out the most effective way to deliver it. "Despite the strong demand, barriers such as cost and complexity have prevented it from achieving mainstream status in the enterprise market," he said.
Third party solutions offering indirect access to Outlook or other servers are gaining in popularity, he added.
However, tighter integration and synchronization between network and mobile e-mail could advance the mobile enterprise movement and in turn plug into the overall movement toward more services being delivered on smartphones.
Mobile Taking a Backseat?
Meanwhile, others see the move as a grudging admission that Windows Mobile is not being adopted as much or as fast as Microsoft would hope. Despite the fact that the Symbian platform has been the favorite target of early mobile viruses and worms, Windows Mobile has not been able to eat into its market share.
Though smartphone adoption is growing rapidly and is forecast to surpass standalone phone sales within a couple years, it still represents a small portion of the mobile phone marketplace, meaning that the marketplace has yet to distinguish the clear winners, Gartner analyst Ken Dulaney told the E-Commerce Times.
Dulaney said while it's probably not too late for Windows Mobile to stake a claim to a share of the smartphone market, it is going to face intense competition and is playing from behind with Symbian already enjoying strong market adoption.
Microsoft's advantage lies in the enterprise sector, where it could still become a standard because of the deep infusion of its technology into existing networks. Though Blackberry use is rising rapidly, it can't be crowned a winner yet and a recent survey by UK-based Canalys found Symbian enjoyed a 53 percent market share, a powerful force to Microsoft to align itself with.
Huge Business Potential
"Enterprises are going to move relatively slowly to adopt a standard for mobile e-mail, so the door remains open," Dulaney said.
Analysts said one indirect but potentially big winner in the deal is likely to be Nokia, whose smartphones are among the best selling with the Symbian platform installed. The new access could unlock huge business potential among enterprises who want to keep workers connected and already have Exchange running to manage their e-mail and messaging internally.