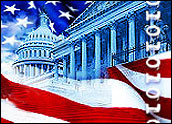 A group of senators known as the "Gang of Eight" on Tuesday introduced a bipartisan immigration bill that could permit an increase in H-1B visas for high-tech workers. The group is led by Sens. Chuck Schumer, D-N.Y., and John McCain, R-Ariz. Another notable member is Sen. Marco Rubio, R-Fla., the GOP's latest rising star.
This legislation is the biggest effort at bipartisan immigration reform since 2007, when a Senate proposal was met by opposition in the House.
Of particular interest to the tech industry, the new bill would raise the current base cap on H-1B visas from 65,000 to 110,000 a year. However, as many as 180,000 visas could be made available based on industry demand and employment opportunities for certain tech-related skills.
The cap on additional H-1B visas made available to foreigners holding advanced degrees in science, technology, engineering and mathematics, or STEM, fields, also has been raised, from 20,000 to 25,000.
Thus, the total number of H-1B visas eventually could reach 205,000 per year if the legislation is adopted.
The Gang of Eight called the overall immigration reform a common-sense way to fix a broken system, promising that it will help secure America's borders while advancing economic growth.
Visa Increase
One criticism of the bill is that the H-1B increase could discourage U.S. students from entering STEM fields.
"U.S. workers will be losers, since they will be competing with more temporary foreign workers for each tech job," said Ross Eisenbrey, vice president of the Economic Policy Institute.
"In computer and information science and in engineering, U.S. colleges graduate 50 percent more students than take jobs in those fields each year. Of those computer science graduates not entering an IT job, 32 percent say it is because IT jobs are unavailable; 53 percent say they found better job opportunities outside of IT occupations," he told the E-Commerce Times.
"Universities will be winners, because more of their grads will be exempted from the quotas, making enrollment in their programs even more valuable to foreign students," Eisenbrey added.
Striking a Balance
While this bill does promise to increase the cap on foreign workers, it also requires companies that utilize large amounts of foreign labor to pay a price for it.
Firms that rely primarily on foreign employees could face fees of US$5,000 to $10,000 per H-1B visa, depending on the overall percent of visa holders in a company's workforce.
"The bill might discourage some visa use by Indian outsourcing firms, which will have to pay higher fees for each H-1B they hire," said Eisenbrey.
"The legislation does have a sunset clause, which is aimed at Indian IT or American consulting firms," noted Neil Ruiz, senior policy analyst and associate fellow at the Brookings Institute. "There is an extra fee if your firm hires more than 30 percent H-1B visa workers in your total workforce."
Techies' Path to Citizenship
The bill could also change the way many foreign workers apply to be U.S. citizens, as H-1B has been used as a way station, of sorts, for green card holders.
"Employers could sponsor those who are working for a bachelor degree or above, and they could apply for citizenship without going through H-1B," Ruiz told the E-Commerce Times.
Winner and Losers
Who wins or loses with this reform largely depends on point of view. Proponents say it offers more opportunities for American businesses to recruit the best talent, but opponents claim it reduces opportunities for those already here.
"The proposal seems to be very balanced," Ruiz observed. "It is a win for American businesses, including technology centers, but also protects American workers at the same time. It very much based on supply-and-demand metrics."
However, it could upset that balance of supply and demand, suggested Eisenbrey.
"H-1Bs already take about 30-50 percent of net new computer science and IT engineering positions each year," he pointed out. "Doubling the number will drastically reduce opportunities for U.S. students and workers."