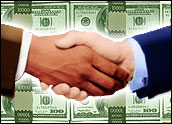 Imation on Thursday agreed to acquire Memorex International in an all cash transaction for US$330 million.
Contigent on financial performance of the purchased business, Imation could pay an additional sum ranging between $5 million and $45 million over a period of up to three years after close. The Boards of both companies have approved the transaction.
"This acquisition is a major strategic milestone for Imation, as we implement our profitable growth strategy. It is also a win-win for both companies' customers and shareholders," said Bruce Henderson, Imation Chairman and CEO.
Covering the Market
Imation is a provider of removable data storage media products designed to help customers capture, create, protect, preserve and retrieve valuable digital assets. Its business-to-business customers range from managers of large data centers to distributed network administrators to small businesses.
Memorex is a manufacturer of recordable magnetic tape for data storage. Memorex launched the audio-cassette in 1971 and created one of the most memorable brand images in advertising history with jazz singer Ella Fitzgerald's voice breaking a glass and the tag line "Is it live or is it Memorex?"
Imation is gaining a powerful consumer brand and global market share lead in recordable CDs and DVDs as well as an experienced management team.
"Imation is buying Memorex to boost its consumer business," independent storage analyst Diane MacAdam told the E-Commerce Times. "That makes sense because Memorex is the second-highest ranked name brand in recordable media below Sony."
An Industry Powerhouse?
Combined with Imation's technology expertise, business-to-business branding, global footprint, broad product portfolio and industry experience, Henderson said the company is creating a new global powerhouse in the data storage industry.
"Combining the two companies could create an industry powerhouse," MacAdam said. "Imation has the brand recognition on the IT side and Memorex has the brand recognition on the consumer side."
Remembering Memorex
Michael Golacinski, president and CEO of Memorex International, will head up Imation's consumer business, maintaining the Memorex headquarters in Cerritos, Calif. A consumer electronics industry veteran, Golacinski was an executive with Maxell Corporation prior to joining Memorex in 1997.
In Memorex's fiscal 2005, ended March 31, the company reported revenue of $430 million and operating income of $30 million. In the subsequent two quarters, ending September 30, 2005, Memorex's revenue totaled $205 million and operating income totaled $14 million.
After completion of integration, Imation expects Memorex to be significantly accretive, adding approximately $32 million to $36 million in annualized operating income and approximately $0.40 to $0.47 earnings per share.
Synergy Benefits
This estimate includes synergy benefits, purchase price amortization expenses and the assumed loss of interest income due to cash used in the acquisition.
Imation anticipates significant synergy benefits, from operating efficiencies including expense reductions, purchasing, and supply chain benefits. The full integration of Memorex into Imation which will result in these benefits is anticipated to be completed by the end of 2006.