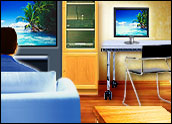 Addressable Ads on TV Worse Than Being Stalked by Cookies "Convergence" is a popular term in information technology. It generally refers to the meshing of separate technology platforms — telephones, computers and televisions, for instance — to give users multiple options for accessing information.
Convergence is what allows us get some of the same shows we watch on television on our PCs, tablets and smartphones. That's the bright side of this particular technological advancement.
The dark side is that as we get into the habit of consuming our favorite content anywhere, we're also going to have to become accustomed to having advertising coming at us from everywhere.
Even more ominous, at least in my opinion, is the fact that every device we use to receive content — from the smallest mobile phone to the largest flat-screen TV — will be collecting information about us.
Addressable Advertising
It's no secret that Web browsers track our movements as we go from site to site, and much of that information is used to help advertisers serve up ads that are supposed to appeal to us as individuals. That's called "targeted advertising," and it can be done without necessarily collecting a lot of personal information about website visitors.
For some reason, however, the people in the television industry don't think simple targeted advertising is good enough. They've cooked up a technique called "addressable advertising" that involves collecting and analyzing data in ways that promises to help them pinpoint what ads should be broadcast to individual households at specific times.
Cable and satellite TV providers are the driving forces behind the addressable ad movement, with the technology to make it happen coming primarily from data aggregation firms. One of these firms, Simulmedia, claims to have a method for tracking when viewers change TV channels, and after doing so for a while, it can predict when a particular TV will be tuned to a comedy, drama or other type of show.
That wouldn't concern me if weren't for the method that Simulmedia and its industry counterparts use to gather this information. TV set-top boxes are the primary sources of data used in creating addressable ads. That's where Simulmedia gets its channel-changing data.
Channel-Surfing Data
On the surface, recording someone's TV channel-surfing habits is not much different than tracking them as they surf the Web. There is, however, a big difference in the type of information that's collected on those two forms of media.
Web-surfing data is typically collected by cookies inserted in a browser that record information about the computer a person is using. Detailed personal information about the user — such as name and physical address — is available only in rare cases.
Things are different on TV. Cable and satellite providers use your home address to send content to your television, and according to the reports on their plans for addressable advertising, they will be sharing that information with the data aggregation companies, which in turn can pass it on to advertisers.
Audience Grouping
Cablevision, which is believed to be the company closest to deploying addressable ads on a regular basis, used data collected from set-top boxes to divide subscribers in three Northeastern states into four categories. That allowed the U.S. Army to run ad campaigns in which people watching the same program on the Cablevision system saw different ads, depending on which group they belonged to.
It's obvious why cable and satellite providers — and even television networks — would want to use addressable ads. While the Web hasn't impacted TV as much as it has print media, there is pressure on the TV industry to give advertisers more information about their audiences.
Having found targeted Web ads to be successful, advertisers are no longer satisfied to know that a show appeals to males aged 18 to 35.
Studies on addressable advertising show that it can give TV advertisers the ability to better target viewers, while also potentially alleviating one of the industry biggest problems: viewers turning away from or simply ignoring ads.
In a recent trial involving 60,000 homes in Baltimore, Comcast found that viewers receiving addressable ads were 32 percent less likely to turn away than those receiving regular ads.
Even if they have to pay premium prices for addressable ads, advertisers should still see them as a bargain, because they are likely to generate more sales than ads that target broader audiences, the cable and satellite providers contend.
Viewer Privacy
Addressable ads may, indeed, be a good deal for TV advertisers and broadcasters, but what's the real price for viewers, particularly given the potential for using, and perhaps misusing, their personal data?
Of course, the industry folks say there is no such danger, because they are not collecting data that identifies specific individuals; they're only collecting data on the demographics of the household.
The problem is, like most new technology, there are no regulations to prevent these companies from collecting any data they want about viewers — or from using that data in any way they want.
There also is no requirement that they allow viewers to opt out of having their information collected, and few of these companies are offering that option.
Once addressable ads start showing up in large numbers, Congress is likely to start looking at them in the same way it's now scrutinizing the collection of data from website users. At some point, it's likely that users will be given the choice of opting out of the system.
If that were to happen, could consumers then turn this technology to their advantage by using the opt-out privilege to finally get a commercial-free TV viewing experience?