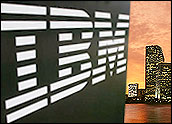 IBM has cut more than 1,500 additional jobs from its information technology services unit, the company said Wednesday. The move is the latest in a series of changes to revamp the company to better compete in a changing technology landscape.
Big Blue laid off 1,573 more people from its services business in North America this week, bringing the total of jobs cut in that business line to more than 3,000 since the start of the second quarter, IBM said.
The cuts represent just a fraction of the company's total workforce of more than 355,000, but underscore the ongoing shifting of resources away from high-cost centers such as the U.S. and Canada toward India and other outsourcing locations, and also a shift within IBM to embrace software and other business lines where profits are more robust.
Continued Growth
In fact, the layoffs do not mean IBM is shrinking, with the company saying recently that it added some 19,000 employees around the globe during 2006 alone.
While speculation is that many of those jobs have been added overseas, IBM does not provide regular updates on the geographic distribution of its workforce.
Shares of Big Blue were slightly higher in late morning trading Wednesday to US$106.27.
Shifting Sands
IBM's services unit is its largest generator of revenue, but profit margins have shrunk considerably in recent years, in part because of competition from companies based in India and other lower-cost centers.
No additional job cuts are planned in the short term, IBM said, though the company is known to be constantly re-evaluating its employee distribution as part of a larger improvement project aimed at creating a more lean enterprise.
IBM is seeking ways to reduce its reliance on labor in the services business by automating processes that can be done without human intervention and shifting work to lower-cost locations when it can be done without hurting customer service.
Moreover, IBM is changing its business model to rely more on the profits from software, the company told investors last week. This move will make it more profitable in coming years, IBM said.
IBM recognizes the opportunities to improve the profitability of its services business by emulating its overseas-based competitors, UBS analyst Ben Reitzes told the E-Commerce Times. Although IBM is becoming more of a software company and will continue to evolve into a software provider thanks to more than 20 acquisitions it's still integrating, services are still a key part of its overall strategy, Reitzes said.
"Services are a way to sell more software and hardware — they all go hand in hand," he noted. Still, IBM is wisely wary of taking a loss in any part of its business in order to drive growth in other areas.
Larger Trend?
Even though the U.S. economy appears to be humming along — and the broad stock market testing new record high levels — IBM is not alone in cutting workers. In recent months, Motorola, Alcatel-Lucent and Nortel Networks have each announced thousands of layoffs.
In fact, job cuts appear to be accelerating, with the number of layoffs in April up 44 percent compared to the month before, a possible sign that companies are preparing for leaner times ahead.
While the home-building sector has been the focus of many job cuts, almost all sectors are seeing reductions, though many appear to be more strategic in nature than purely driven by a need to cut costs, said John Challenger, CEO of outplacement firm Challenger, Gray & Christmas.
"Companies that can get ahead of a trend will be better positioned if the economy does take a dip," he told the E-Commerce Times.
At IBM, job cuts have been a regular occurrence for some time. During 2005, it cut some 15,000 jobs in the face of lower-than-expected profits, but also said it would add more workers in key areas. It has also added thousands of workers through its software-firm buying spree.