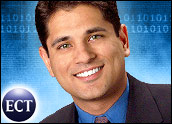 It plays in two of the most competitive markets — technology and online merchandising — but HPshopping.com continues to garner accolades from industry groups. Most recently, the e-commerce site was the sole computer manufacturer and marketer to place in the top 10 of the seventh annual Mystery Shopping Study in both 2004 and 2003.
Although HP continues to rely heavily on its indirect channel of resellers, VARs and system integrators, the company launched HPshopping.com in 1998 as its direct-to-consumer e-commerce site. The move was designed to give consumers another way to purchase HP products, said Nikhil Behl, vice president of strategy and development at the Sunnyvale, California-based Hewlett-Packard subsidiary.
The company has been able to channel its technological background and expertise to enhance its customers' online shopping experience, Behl said in a recent interview with the E-Commerce Times. However, areas such as customer service, managing customer expectations and tailoring the experience to customers' needs also play a crucial role in an e-tailer's success. Read on for more:
ECT: So, what is HPshopping.com? Who is your target market? Why did HP develop this site?
Behl: HPshopping is a wholly owned subsidiary of HP. It's the consumer-direct arm of the business. We're focused on the U.S. consumer, home and home office marketplace. And, really, our vision is to be the best place to shop online for home and home office computing solutions.
HP is one of the largest consumer technology providers in the world, and HPshopping provides, probably, the best mechanism to find and pull together those products into solutions for you. We carry a whole host of products from notebooks, desktops, digital cameras, digital photography printers, all-in-one printers, supplies, ink, paper, digital entertainment centers, our new line of digital entertainment products such as plasma TVs, LCD TVs, instant home cinema products, etc.
ECT: Obviously, a wide array of HP products. Do you also offer non-HP products?
Behl: We do offer a select group of products from non-HP providers. They're predominantly there to fill out an HP solution and/or offering. Where it makes most sense to provide customers with a better, more holistic or richer experience using our product set, we will offer some select third-party products. So, for example, with desktops and notebooks we would offer Norton Anti-Virus products, and so forth.
ECT: When did HP set this site — and subsidiary — up?
Behl: Wonderful question. We really started in December of 1998 as a refurbished store. We quickly found there really was an appetite for buying direct from the manufacturer. Quite a few customers were starting to get online, call and start purchasing from the manufacturer. We ended up expanding [the site] in '99 to include new products. We incorporated ourselves into a wholly owned subsidiary in May of that year. In October of that year we launched our configure-to-order capabilities, and that really jump started business for us. There was an incredible amount of demand from customers wanting to configure their own desktops and notebooks, and we've seen that develop from customers wanting to customize a single product to customers wanting to customize a solution set.
That was really the launch of HPshopping.com as we know it today. We've seen some phenomenal growth, year-over-year. We grew 67 percent year-over-year last year; we hope to grow similar rates this year. It's been one incredible adventure.
ECT: And it's always nice when it's moving up, right?
Behl: Let me tell you — it's a wonderful thing to deal with.
ECT: How does HPshopping.com fit in with HP's other distribution channels — solution providers, VARs, retailers, other e-tailers?
Behl: Probably customers would be the best people to give the answer to that. I'll give you my hypothesis on it. What we found is there is a certain set of folks that is comfortable in purchasing direct from the manufacturer. As you said, HP has an incredible distribution mechanism in place and our strategy is very simple: We want to be where the customer wants to buy. There's a certain set of customers that would like to come direct to HP, do their research and then go into retail and purchase a product from Wal-Mart or Best Buy or somebody. There's another type of customer that wants to buy direct from the manufacturer, and we wanted to make sure they had that avenue available to them and that we provided them with that option. We are very comfortable with our customers, whether they would like to buy from retail or they'd like to buy from HP direct.
It was really a response to market conditions and to customer conditions. Probably one of the most important tenets to us at HPshopping is around customers — and wanting to make sure that whatever we build has the customer in mind. Really, what happened was there was a certain segment of customers — a growing segment of customers — that wanted a direct relationship and direct contact with the manufacturer, and that's the way they wanted to buy. We said: "You know what? If that's the way customers want to purchase, we need to make sure we provide them with that option."
We've made a lot of our strategic direction based on customer response. Build-to-order was another example of that. We've won a tremendous amount of awards; in fact we just won — for the second year in a row — the top 10 Web site for customer service by the e-tailing Group. We won the best affiliate marketing campaign by AdTech in 2004. We won the best computer retailer Web site for three out of the last four years by the Web Marketing Association. All these things are because we put the customer first. We look at it from the customer's viewpoint: What is the customer asking for? What is the customer looking for? How can we make the customer's life easier? How can we help them find what they're looking for easier?
We used to want to be the best business shop online for home and home office computing products. We changed that a couple of years ago to solutions. We found customers were saying: "Hey, this is great. If I get a printer and take it home, take it out of the box and then I find out it doesn't work, that's really frustrating." We make sure we tell customers, "Depending on your usage pattern, depending on what you're looking for, you probably want to get a USB cable with that, you probably want to get some paper with that, if you're into digital photography you'll probably want to get some of our new Vivera inks that are optimized for photo quality, you'll probably want to get some photo paper and, hopefully, you're using an HP digital camera. If not, we'll be happy to suggest one.
"We want you to have a rich experience with that product. We want you to take full advantage of the product that you're purchasing from us, and the only way that happens is if you have all the pieces together."
ECT: In addition to product quality and depth, plus customer service, what are some of the other elements that make an e-tailer successful?
Behl: We offer our customers two ways they can place orders with us. Either they can go to our Website — which is available, pretty much, 24 x 7, 365, except for some maintenance downtime which we have scheduled — or they can go to our call center — which is 888-999-HPHP — so we try to make it as easy as possible for our customers to get in touch with us.
We continuously make improvements on our Web site to provide better and better merchandising and information so customers can self-select and customers can get all the information they need to make a decision. We spend a tremendous amount of energy and effort in making sure we are training our sales reps at the call center so they are able to provide the customer with the information the customer needs in order to make a decision. Sometimes those are unbelievably technical questions, sometimes they're the most simple of questions — it really depends on the type of customer who is calling in.
In addition, we make sure that we set the right expectations for our customer and, then, that we deliver on them or, hopefully, exceed them. For example, I have the ability to take an order up to 10 p.m. Eastern Standard Time today and get the order fulfilled to you by 10 a.m. tomorrow morning in 96 percent of the country. We will get that right 99.5 percent of the time. Of course, you have to pay Priority Overnight shipping, but that's one of the options we have. That is an incredible value proposition.
It goes back to providing customers with what they're looking for, making sure we're helping them make a decision, setting expectations and then meeting or exceeding those expectations. It's not that complicated when you think about it.
ECT: Not in theory — but the implementation's got to be tough.
Behl: You know, 85 percent of our customers said they would recommend HPshopping.com to a friend. There is absolutely no better accolade we could possibly ask for. That's fantastic. We would love to get that to 100 percent. We work every day to get that to 100 percent.
ECT: How much does HPshopping.com's success have to do with HP's brand name and recognition? How do you leverage the HP name?
Behl: We are very fortunate to have a wonderful brand. We are in a unique position when we are able to invest in delivering a quality product and a quality experience for our customers. The things we do day-in and day-out, the most mundane little things we do, and the fact that we do them well, we do them predictably and we do them in a world-class manner delivers that experience to our customers. And word gets out. People know if you come and purchase from us the week before Christmas, we guarantee a delivery date and make that delivery date, come Hell or high water.
ECT: It's very disappointing if that box isn't under the tree.
Behl: We take that very personally. We take that promise to the customer very personally, and we make sure we deliver on that promise.
We also invest tremendously in our business. Especially when you've been growing as we've been growing, it's that much more important to invest in the business. I was reading an article this morning about Overstock.com and some of the issues they had with investing for growth: That is something we have invested very, very heavily in. More importantly, I think we look at our business as a system. We look at it from a value chain standpoint, from the factory all the way to the customer's doorstep. We make sure our systems are integrated, they are automated, they have incredible up-time — triple nine — and we invest in that, not just for today, but for the growth we expect to see three months down the line, six months down the line, nine months down the line, 12 months down the line. Because we look at it from a holistic standpoint, we know the parts of that value chain that need to scale, depending on what type of volume we can expect. We're constantly looking at that proactively, for a long-term viewpoint, and we continue to invest in it to ensure the best experience for our customers.
ECT: Does being a technology company give you an edge in this respect or can any company, irregardless of their product line, also do this well?
Behl: I think other companies can also do it. HPshopping.com became a wholly owned subsidiary for a number of different reasons. One of those reasons was to make sure we were able to build a business model and able to build a business that was integrated. That was one of the powers of splitting it off and doing this. We have all of the functional areas under one roof — whether that be sales or marketing or technology or finance or store operations or infrastructure or technical operations, etcetera — and we spend a lot of time making sure the synergies exist between them, so we don't have marketing going off and doing something in a silo or have technology going off and doing technology for technology's sake.
As an executive team, we make sure when we're managing our investment portfolio — which is really dollars and people and intellectual capital — that we are picking our bets, that we are making sure we understand what is the most important thing from a customer standpoint. What is the customer asking for, and what are we going to do to deliver to that particular customer? Once that decision is made, then everyone is marching to the same tune. It doesn't matter whether you're a technology company or a process company, it's really a mindset.
ECT: What are some of the other mistakes you've seen e-tailers make?
Behl: We strategically decided a few years ago that one of the things that differentiated e-commerce from traditional bricks-and-mortar retail was the richness of information that was available. How we were able to harness that and use that information would do two things: It would help make us successful and it would differentiate us from other e-commerce players, our competitors.
It's simple things. When you walk into your local grocery store and look at the shelves, unless you have cameras on you all the time or someone with you with pen and paper checking off every time you pick up a product or look at one, the bricks-and-mortar retailer doesn't know whether you looked at that can of Campbell's soup or not. In e-commerce we know exactly what you looked at. We've been able to build a business intelligence system that essentially harnesses or captures all the information we have in each one of our transactional engines. We actively use this to run our business.
Then it dawned on us: There's a tremendous amount of information out here, but why do we have this one toolset for this one application that's an offline system? Why can't we take the richness of this data and build it into a transaction engine as well? So we took that database that we had and we started writing queries off it: When [someone] came and bought this camera, they also bought this photo printer. Well, guess what, most of the time when people came and bought this digital camera they also bought that photo printer, so we should take that information or analysis, bring it back onto the Web site and publish, for our customers, some personalization.
So right there we were able to take our non-transactional engine and convert it into a transaction engine. If you come to our Web site today, you'll see a feature that says, "People who bought this, also bought." It's completely automated. It's based off buying preferences that come from our customers, and it's really easy to use. It increased our conversion rate almost 3X.
It's incredible how sometimes simple, simple things can make huge improvements. Another thing we launched on our Web site — on the right-hand side you'll see, "Products you last browsed." It's right on the home page. Again, we found that increased our conversion rate dramatically, once we did that.
ECT: How do you walk the fine line between personalizing the shopping experience and showing you know too much about the customer?
Behl: That's something we take very, very seriously. We want to make sure our customers know exactly what we're doing. For example, we have an opt-in policy. If you want us to communicate with you, for example, we don't assume that you're signing up for our newsletter or that you're signing up for us to be in touch with you. We give you the option of opting into it. Our default, actually, is opt-out. We also give you the option of registering on our site, and drive a lot of that personalization based on the registration.
Other than that, most of it happens as an aggregate level. It's not just [you]. It's if 75 percent of people who purchased this product also purchased that product, then it qualifies. It wouldn't drive it based off of one person.
ECT: So how closely does HPshopping.com work with HP corporate?
Behl: We source our products from HP corporate, and we work with them to do product positioning and work with them on making sure we have the information we need to merchandise the product on the site, as well as merchandise it in the catalogs we drop to customers and training at sales centers. The information that, from time to time, we're able to generate can be utilized by HP as well, in other avenues or other channels. It's really a two-way street. We share best practices. We share information, from that perspective and, of course, we work very closely with the product groups to make sure we get the product.
ECT: If you were speaking to someone about to enter or relaunch an e-tail site, what are some of the bullet points you'd suggest they consider, especially if they're a subsidiary or division of a larger company?
Behl: Think about it from the customer's perspective. Keep it simple. Don't overly complicate it. Make sure you set the right expectation for the customer — and that you deliver on that expectation.