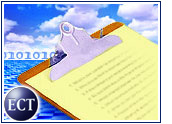 When the E-Commerce Times asked industry experts what tops the typical CIO's wish list, Scott Tiazkun, research manager for enterprise applications at IDC, joked: "Relief from the nightmare of being pulled from a dank, small hiding place by enemy software vendor sales personnel!"
Tiazkun's response turned out not to be an anomaly. Others voiced similar replies.
From AMR Research vice president John Hagerty: "Wish list? For everyone just to go away!"
And from Dr. Katherine Jones, managing director for enterprise business applications at Aberdeen Group: "Please give me software that my users will stop complaining about!"
Apparently, the put-upon CIO has become as common a high-tech archetype as the teenage hacker or the jeans-clad, headstrong, bullying CEO "evangelist." Budgetary constraints, enterprise applications with ongoing problems, employees whining about those enterprise applications, vendors that are slick with their PowerPoint presentations but AWOL with their implementations — no wonder so many CIOs appear to have gone through a washing machine's spin cycle.
Given the time of year, is it unreasonable for a beleaguered CIO to long for something beyond virtual coal? If CIOs could compile a wish list of five things that would make 2004 a brighter year, what would make the cut?
1. Clarity from the Business Side
AMR Research's Hagerty said CIOs have told him that they most want real clarity from the business side of the organization, so they can avoid being blindsided by requirements that have not been properly articulated.
"They want explicit marching orders so [they] can put appropriate IT policies into action," Hagerty told the E-Commerce Times. Specifically, he said, businesses need to supply CIOs with a pecking order of the upcoming year's priorities, plus a timeline associated with those tasks so that CIOs can establish an effective work plan.
He noted that clarity will be especially important in 2004 because the Sarbanes-Oxley Act (SOA) of 2002 will take effect. Companies must be compliant with Section 404 of that law, which requires publicly traded companies to document internal controls and business processes, in their first fiscal year that closes after June 15, 2004.
2. Eliminate Information Barriers
According to Jones, an astute CIO also must examine his or her entire organization and ensure that all business processes are connected — or at least connectable. This task is not easy.
"What they are looking for is that solution [in which people] don't have to … add reiterative data," she said, noting that many companies currently fall far short of that goal. For example, she cited a distribution company whose orders arrived over iTrade. The data was reentered into the company's account systems, then reentered again into its production systems.
However, IDC's Tiazkun said straight-through processing, in which information must be input only once to permeate the enterprise, is a concept that still has not quite reached fruition.
"Maybe next year?" he said.
3. Better Integration
Continuing the theme of improved access to information, the ability to integrate technology and applications so that customers can interact more effectively with companies is also high on the CIO wish list, Yankee Group senior analyst Michael Dominy told the E-Commerce Times.
Improvement to customer-facing functionality, such as self-service, would allow customers to tap into their suppliers' ERP systems, Dominy explained. In turn, this would allow suppliers to better plan and manage inventory to match service expectations.
According to Dominy, this sort of improved integration would make it easier for a CIO to operate and access a back-office system. SAP's NetWeaver platform, for example, can interact with other operating systems, making it easier for customers and different branches of a business to work together.
4. Greater Flexibility
For his part, Gartner vice president Tom Topolinski told the E-Commerce Times that in an ideal world, a CIO would be guaranteed a predictable return on investment (ROI) on software purchases.
To come closer to achieving this ideal, Topolinski said, CIOs want flexibility in terms of their future options. Functionality and integration are important. A flexible licensing agreement, including protection from vendor acquisitions and mergers, is also significant. If Oracle's bid for PeopleSoft had succeeded, for example, PeopleSoft customers might have found themselves using software that Oracle no longer actively supported (though Oracle has denied that would have happened). In such a scenario, they could have been forced to turn to a vendor they might not have selected otherwise.
CIOs also want the flexibility to use best-of-breed applications on their own frameworks and platforms of choice, according to IDC's Tiazkun. As such, he added, they would like to see more open standards and vendor adherence to those standards, making cheaper, more flexible and personalized enterprise application sets a reality.
5. Lower My TCO
Finally, CIOs want help in reducing the total cost of ownership (TCO) associated with implementing and maintaining their internal systems, Dominy said. Ideally, they would like to consolidate the number of hardware vendors they are using, eliminate agreements for software that is ineffective or unused, and effectively monitor the overall environment so that they have enough, but not too much, network capacity.
Jones described one of her clients, a mid-market company, that signed a contract for an ERP system. After inking the agreement, the vendor informed the company that it would need to hire two database people and two businesspeople to manage the software. The company was faced with an additional US$100,000 charge that it had not anticipated.
Ultimately, the company ditched the vendor's software, partly for that reason, Jones said.
"Also, the implementation didn't work," she noted. "They switched to an ASP."
Ultimately, it seems CIOs would like to see software and hardware that "just works" in 2004. Although enterprise applications may not always be as easy to use or reliable as promised, they have made leaps and bounds in recent years, and CIOs may be closer to reaching their goals than even they realize.