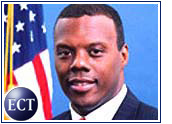 Key members of the U.S. House of Representatives Republican leadership gathered on Friday to launch GOP.gov, a Web site designed to inform the public about current issues and the views of GOP members of Congress.
House Majority Leader Richard A. Armey and Majority Whip Tom DeLay joined Chairman of the House Republican Conference Rep. J.C. Watts, Jr. in announcing the new Web site. More than three-quarters of Republican members are participating in the project.
According to Watts, GOP.gov "allows us to communicate directly with the people we represent, people outside the beltway who go to work everyday, pay their taxes, and want to know what their representative is doing to lower their taxes, improve education, strengthen national security and save Social Security."
Political Tug of Net
The GOP.gov announcement came just days after Democratic presidential candidate Al Gore announced that if he is elected president, he will attempt to bring nearly every facet of the federal government online by 2003.
Gore said he will lead a "second American Revolution" via the Internet to return the American government to its people. "The power of government should not be locked away in Washington, but put at your service — no further away than your keyboard," he said.
The Republicans used similar "power to the people" rhetoric in launching their new site. "Every voter, student, and taxpayer in America can now track the inner workings of Congress with today's unveiling of an ambitious grassroots communications effort," the group said.
Politics as Usual
The GOP.gov site is essentially a steady stream of press releases outlining Republican positions on a variety of issues, interspersed with notices about upcoming Republican events and speaking engagements.
After registering at the site, visitors can subscribe to e-mail lists on specific topics such as taxes and the environment. The site also offers constituents and the media the option of personalizing the site in order to follow particular issues and members.
Local Communication
The Republican leaders introduced the new site at the annual GOP district directors meeting, which focused this year on spurring local party leaders to take advantage of Internet resources during the election campaigns.
"The Internet offers unparalleled opportunities for Congress to keep the public informed about our work — especially providing constituents with news they can use," Watts told the district directors.
Communication at the local level is one of the key benefits of incorporating the Internet into political campaigns, according to the GOP. "The best way for people back home to understand what we're trying to do to secure America's future is for us to show them," Watts said.