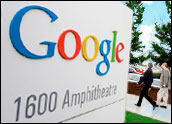 In a bid to spread its influence to the offline world, Google this week will launch a test of a print-based advertising program.
Some 100 of its existing advertisers have been invited to participate in the test, which Google bills as an "alpha version" of Google Print Ads. Google would choose where the ads would appear in newspapers across the country.
During the test period, Google-placed ads will appear in 50 metropolitan newspapers, includingThe Boston Globe, The Seattle Times and several Gannett papers.
Boost for Flagging Newspaper Industry?
Google has dabbled in print ads before. Last year, it targeted technology publications such as PC Magazine with bundles of ads published under a Google banner. The effort drew lower than expected interest from advertisers, said Google officials earlier this year.
The company's new approach is different in two ways: It is not auctioning display space in newspapers, and it is not prebuying display space and then reselling it to advertisers. Instead, it will act as a sales agent between advertisers and newspapers.
Initially, Google will not charge advertisers to use the program, but instead will charge only for the cost of placing the ads. In the future, though, it is likely that Google will deduct a modest commission.
The focus will be on advertisers that typically do not advertise in print media — a move that may be intended to allay fears that mixing print and online ad campaigns would reduce a firm's advertising revenue.
If successful, the effort could be win-win for both Google and the newspaper industry, which has suffered sharp declines in circulation as more readers jump online to get the latest news.
Hard Row to Hoe
Newspapers are likely to greet Google's push with a somewhat wary eye. Though hungry for the additional ad revenue, publishers may fear an even stronger Google that would have the power to flex its muscles as it continues to expand both on and offline, search engine expert John Battelle told the E-Commerce Times.
Google may find a culture clash as it enters the world of traditional newspaper publishing, in which nearly all display space is still sold by live salespeople, Battelle said.
"The issue here for Google really comes down to scale and context," he explained. "Print advertising is a maddeningly human business, driven by passion, emotion and gut feeling. I'm not sure that's ever going to go away. Ads for a specific, community-driven audience need to be part of a conversation, not an algorithm."
Ultimately, Google could fit in as it seeks to serve ads that might not otherwise have been captured in those one-on-one sales transactions.
Kings of All Media?
Some key conditions of the program may give publishers more comfort. "For instance, they can refuse to offer any pages or inventory they want, and retain full control over the creative content of ads," said Sterling Market Intelligence founding principal Greg Sterling.
"Becoming a multi-platform seller of advertising is part of Google's long-term ambitions, and includes print, radio and video, as well as its core Internet products," he added.
How far will Google go to become a multi-platform player? The rumor mill has the company partnering with Clear Channel, or possibly even making a bid to buy the national broadcaster, which controls an estimated 20 percent of all local radio advertising.
Meanwhile, Google appears to be actively hiring radio advertising salespeople in some markets, said RBC Capital Markets analyst David Bank.
Having local radio assets and newspaper outlets could boost Google beyond the competition as it seeks to heat up the local search genre, Sterling noted. Google and its rivals — including Yahoo and MSN — believe there is a huge growth potential in making advertising affordable and effective for millions of small businesses.