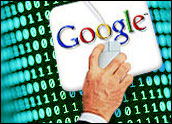 Adding another twist to its efforts to gain business adoption for its Web-based applications, Google has released a Team Edition of Google Apps.
Google Apps Team Edition allows users to sign up using their work e-mail addresses to gain access to a suite of Apps — Google Docs, Calendar, Google Talk, but not Gmail — and enable instant collaboration with coworkers.
The edition of Google Apps is also "domain aware," Google Senior Marketing Manager Jeremy Milo said, meaning that users who sign up from the same business or organizational domain name can automatically become collaborators and sharers of documents, with end users retaining control over who can view or edit their documents or calendars.
"There are many people now using our consumer apps," Milo told the E-Commerce Times. "We know people want to bring them into their workplace, and this is a way to allow them to do that."
Users can control how widely shared their documents and calendars are. In fact, the applications can offer users more control than traditional means, with users capable of changing access levels based on e-mail addresses, Milo said. "Once you send an attachment, you can't take it back," he said. "With Apps you can control it down the road."
Collaboration and Control
Google has been trying to foster enterprise adoption of its various tools, with an enterprise search product and mapping products and services leading the way. More recently, it has added productivity tools, such as Google Docs and Spreadsheets, and enhanced its messaging products with security features it acquired when it bought Postini.
Google has about 2,000 businesses signing up to use Google Apps every day, it said. While many of the 500,000 businesses using the applications are small businesses, the search giant says it is also making inroads into larger enterprises. Last week, it announced that Genentech would begin a deployment of its Docs and Calendar applications.
"Enterprise is an area where we are investing heavily. We are having a lot of exciting conversations with other Fortune 500 companies as well," Milo said. "Businesses are becoming more aware of how they can access applications from the cloud and cut down on setup time and IT costs."
A key innovation in the Team Edition may be the ability for information technology administrators to add more levels of control if they see fit, such as user management, the ability to enable or disable services or to adjust various users' sharing levels. If they want additional controls and features such as 24/7 support, business can easily upgrade to Google Apps Premier Edition, said Milo.
"We're trying to strike a good balance and give each employee instant access to collaborative tools but also give decision makers in a business the ability to actively manage Google Apps and customize if they want an additional level of control," he added.
Making Inroads
That new level of control could help drive business adoption, Nucleus Research Vice President Rebecca Wettemann told the E-Commerce Times.
"We're seeing adoption by some business users, but broad adoption by the enterprise is going to take some time," she said. "It's a way for IT to be able to have some management capabilities around what business users are doing."
That's important because despite its strides in addressing business needs, Google "still has to show proof points to the enterprise — that it can be a trusted enterprise provider. It has to be more than isolated teams and consumers using the apps," Wettemann added. "It's really getting people comfortable with using the cloud as a central point for storing what may be sensitive information. No one wants to be the first one, and Google needs to prove it."