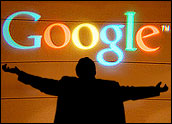 Gift-givers with deep pockets who want to impress those on their holiday lists may have another luxury item to consider along with jewelry and plasma televisions: For the first time, a single share of Google stock now costs more than US$500.
Shares of the search giant's stock broke the $500 mark early Tuesday, making the company one of the most valuable in the U.S., and adding another chapter to a success story that began in a garage near Stanford University some eight years ago.
Tops in the Valley
By early afternoon, the shares remained comfortably above the $500 level at $507, up 3 percent on the day.
The share price surge raised Google's market value to $154 billion, making it the most valuable business in the tech epicenter of Silicon Valley, with a market cap higher than that of Hewlett-Packard and Intel.
The $500-plus share price puts Google in an even more exclusive group: Just seven U.S. companies have stock as valuable, including the Washington Post Co., the Chicago Mercantile Exchange and Berkshire Hathaway — the holding company and investment firm run by Warren Buffet, known as the Oracle of Omaha for his financial wisdom.
The latest milestone came almost a year after Google vaulted over the $400 level — less than 30 months after its debut on Wall Street. When the company went public in August 2004, its shares were offered at $85. They surged past $100 on the first day of trading, rose past $200 within three months and were trading for more than $300 within seven months of the company's debut.
At the time, many noted how the frenzy over Google's shares resembled the dot-com boom times, when stock investors bid up Internet-based companies to dramatic heights. Others have seen Google as different from the outset, however, because it has managed to sustain its growth rates while also remaining consistently profitable.
Rarified Air
Along the way, Google has made billionaires of founders Sergey Brin and Larry Page and of CEO Eric Schmidt, and created thousands of millionaires among its employees and its early investors.
Google's $154 billion market cap makes it more valuable according to investors than IBM, at $140 billion, and more than three times as valuable as Yahoo, whose market cap is below $40 billion.
Even the recent surge still leaves Google well behind another rival, however, with Microsoft remaining the world's most highly valued tech company with a market value of just under $300 billion. Cisco Systems also remains ahead of Google, with a value of $162 billion.
The stock surge comes as Google investors are betting on the search engine capturing a key spot in the emerging online video marketplace, using its recently closed $1.65 billion buy of YouTube to become a key source of online video — and a main purveyor of Web-based video advertising.
Breaking $500 per share may not have strong technical significance in terms of Google's business strength, but it could have strong psychological ramifications. The last time the stock flirted with that price level it tumbled on fears that growth was slowing.
Where to Now?
The rise may not be over, with some analysts already predicting that Google will break the $600 per share barrier sometime within the next 12 months.
The sky-high stock price has led some to call for Google to issue a stock split, a move that would make the stock more affordable for the average investor.
The continued price climb suggests that investors are willing to overlook the threats to Google's business, such as lingering copyright issues with YouTube — issues that Google has pushed hard to address since announcing the acquisition — or potential competitive thrusts from the likes of Yahoo and Microsoft.
Google has given investors plenty to consider in that realm, opening the door to revenue from video sales and expanding offline for the first time. It recently struck a deal to become a broker of newspaper advertising for some of its online ad clients. The company also plans to roll out a radio advertising program.
The investor optimism may also reflect the fact that online advertising still takes a relatively small fraction of the overall advertising spend, eMarketer analyst David Hallerman told the E-Commerce Times. Thus far, online advertising has grown to take up less than 10 percent of total spending, rivaling the share taken by radio.
"The biggest years of growth may be behind online advertising in terms of total percentage gains," he said. "When compared to the total amounts spent on advertising, you can see just how much potential gain still remains."
Ironically, Google's share price may have even got a boost from rival Yahoo's CEO Terry Semel, who recently said that forecasts for online ad growth do not fully take into account factors such as video ads and social networking.