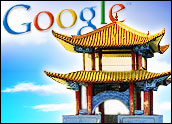 Beefing up its presence in China as it faces off with Baidu.com in that fast-growing market, Google said Monday it had invested in a Chinese social networking startup.
Google did not disclose any details of its investment in Tianya.cn, which has about 20 million registered users who turn to the site to share news and post items for sale or swap. Google's stake may be as high as 60 percent of the total company, according to published reports.
The investment is part of a larger strategy by Google to expand its exposure to that market, where Internet usage is growing rapidly and where it has a search and portal rival in the form of Baidu. Google executives said last week they would likely acquire one or two small China-focused Web companies this year and make investments in another five.
Google lags Baidu considerably, but has a growth rate that could make it as large as the native company in a matter of years. That will require not only expanding its presence in China, however, but also working with the Chinese government to win the right to offer expanded services.
Many Western companies have embraced acquisitions and investments as a way of gaining quick entry into the Chinese market.
Questions and Answers
Google and Tianya are apparently also combining efforts to operate a question-and-answer Web site. Known as "Wenda" — the name means "ask and answer" — the site is fashioned on other Google-backed sites, including a recently launched Russian-language site.
Users sign up for Wenda using the Tianya registration system and that company's Internet content provider number, or ICP, a license from the government to serve content over the Internet in China.
Last week, several Chinese publications carried a story quoting the head of Google China as saying the company would make several strategic acquisitions and investments over the next 12 months, including one or two direct acquisitions and as many as five investments in smaller Web firms.
In July, Google CEO Eric Schmidt said the search giant's China efforts would pay off over time, as the company earned more freedom from the Chinese government and improved its service offerings.
"We think that the tenacity of Google will bring significant victories in China over the next few years," Schmidt said during an earnings conference call when asked about the China strategy.
Earlier in the year, Google confirmed it purchased a stake in Xunlei Networking Technology, a peer-to-peer file-sharing site. It has also ensured it will be a presence in the mobile Internet in China, in part through a deal with China Mobile. Google also has a search-and-advertising agreement in place with Web portal Sina.com.
Buying and Building
China is unique for Google in that it's one of few markets where it doesn't already dominate search and paid search. Baidu controls nearly 60 percent of the market, according to data from Analysys International, which said Google is in second place with a market share of about 23 percent.
For Google, China is all about investing today for the future, Morningstar analyst Rick Summer told the E-Commerce Times. With Baidu in command, it will need to use different tactics to crack the market as well, he added, and must do so while carefully navigating the Chinese government's demands for content control and what many free-speech advocates see as onerous censorship requirements.
"Google will not be able to sneak into dominance in China the way it did in North America," Summer said. "In China, the company is playing catch-up in an unfamiliar environment," he added.
"Dramatic and sizable investments" in Chinese companies may be needed for Google to be able to generate the revenue from China it — and investors — have come to expect, Summer noted.
'A Very Important Market'
Already the second-largest online market after the United States, China will only become more important over the next few years, said Sterling Market Intelligence analyst Greg Sterling.
The past two years have seen the share of the global Internet population represented by the U.S. shrink from a third to one-fifth and with 137 million Web users already and strong growth rates, China will have more Web users than the U.S. within two years.
"It won't happen overnight, but China will become a very important market for search," Sterling told the E-Commerce Times. In particular, the opportunities in mobile search and local search — markets still in their nascent stages in the developed world — could represent decades worth of future revenue opportunities.
"Small steps and moves now could be big payoffs in the long run," he said.