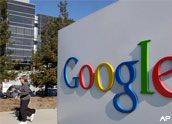 In a move that could signal Google's designs on entire new areas of the Web industry, Google has taken a stake in a startup seeking to integrate broadband communications into existing electrical power lines.
Google joined Wall Street banking house Goldman Sachs & Co. and media giant Hearst in providing an undisclosed cash infusion to Current Communications Group, which is focusing on so-called Broadband over Power Line (BPL) Internet service. Other, previous investors also provided additional capital to the Germantown, Md., firm.
"These investments provide us with both capital and operating assistance as we continue to roll out Broadband over Power Line services to provide voice, video and data services," William Berkman, Current's chairman, said.
Services Being Tested
Using existing electrical lines to provide high-speed Web access is seen as something of a Holy Grail of Internet access options, since large swaths of the U.S. — and significant parts of the rest of the world — are not wired with high-speed DSL or cable lines, but do have electrical power wires running to every home.
"With roughly two-thirds of the nation still without broadband and many utilities looking for means to upgrade their distribution networks, the acceleration of Current's build-out is a clear win-win for consumers," Berkman said.
Current's services are now being tested in the Cincinnati area through a partnership with Cinergy, and the funding will be used to expand the geographical reach.
The firm did not disclose the amount of the investments individual companies provided, but the Wall Street Journal reported the total investment would be around US$100 million, which bolsters the $70 million Current had raised previously.
While that's a sizeable sum, the task of integrating broadband into the nation's utility infrastructure is expected to be a massive undertaking, on a similar scale to the enormous broadband build-out of the 1990s.
Rising Tide
A Google representative declined to comment on what the strategic thrust of the investment might be, instead providing a prepared statement that said that Google was "very excited to have a relationship with Current to help promote better access to the Internet."
Analysts said it's clear that boosting the number of people who have high-speed access to the Web would help Google in the long run. Even if the move didn't involve any type of exclusive access to those new customers, because Google already receives such a huge portion of Web traffic, it would benefit in greater proportion to its rivals.
And if the technology succeeds — analysts are mixed on whether it will truly do so — Google would have an equity stake that could also pay significant dividends over time.
Some analysts said the move could also foretell a major shift or new business thrust for Google, one that provides it the infrastructure to provide Voice over Internet Protocol (VoIP) services and even Web access plans. Though Current would not comment, Google's stake might have been given in exchange for the right to be the first to provide some services to Current's users.
"Is this the beginning of Google, the Internet service provider?" asked Search Engine Watch Editor Gary Price. "Stay tuned."
Technical Hurdles
Some parts of Europe already use power lines to provide Web access, but the technology faces a number of technical and other challenges in the U.S. For one thing, power lines operate at a lower voltage in the U.S., meaning that more transformers in the existing infrastructure would need to be retrofitted.
In addition, there is concern that electrical lines could "leak" signal, since they are typically not coated and shielded the way communications lines are, raising the possibility of interference with wireless communications — including emergency signals.
The investments from Google and others appears to be a bet that those hurdles will be overcome, though analysts noted that Google still has a strong cash supply from its IPO last year that it can use for strategic purposes.
Google is often rumored to be moving into new areas on the Internet, leading some to say that it has designs on total dominance of all aspects of Web access and use. It has denied that it's working on a Web browser, but is at work on a Web payment system and features and services for mobile communications, social networking and other portal-style offerings, as well as tools to help it be a player in the video-over-broadband market.
Lots of Goodwill
Also, Google has long been rumored to be eying the Web hosting and access markets, with analysts noting that the plunging costs of Web servers and storage space could enable a wealthy company such as Google to move into a range of new areas with little capital expense.
"Google has an enormous amount of goodwill among consumers so people don't become alarmed about them having a larger role in the Internet," Forrester Research analyst Charlene Li told the E-Commerce Times. "It's clear that they see themselves touching all aspects of the Web experience, from the time users log on all the way through their entire Internet experience."