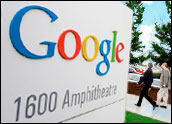 Google will invest heavily in a green power initiative during 2008 and beyond, with the ultimate goal of developing a renewable energy source that creates electricity at a lower cost thancoal, a major source of greenhouse gas emissions.
Google's initiative, which it has dubbed "RE<C" — Renewable Energy Cheaper Than Coal — will begin with a focus on solar thermal, wind power and geothermal technologies. The company expects to spend "tens of millions of dollars" on the push in 2008 and likely hundreds of millions over coming years.
That money will be used to hire energy engineers and experts to lead research and development work under the RE<C umbrella. The search giant also expects its long-term investment to produce positive returns.
"We have gained expertise in designing and building large-scale, energy-intensive facilities by building efficient data centers," said Google cofounder Larry Page. "We want to apply the same creativity and innovation to the challenge of generating renewable electricity at globally significant scale, and produce it cheaper than from coal."
Inflection Point?
Page argued that work already done to develop and advance alternative energy technologies now need additional focus and investment to be made market-viable.
"Technologies have been developed that can mature into industries capable of providing electricity cheaper than coal," he said, arguing that solar thermal "provides a very plausible path to providing renewable energy cheaper than coal."
The specific aim of RE<C is to produce a gigawatt of renewable energy capacity that can be made and delivered for lower cost than the equivalent amount of power generated by coal. A gigawatt is enough to power a city the size of San Francisco, the company said, and Google will likely have to find a way to produce electricity for less than 2 US cents per kilowatt hour in order to achieve its goal, the company said.
"If we meet this goal and large-scale renewable deployments are cheaper than coal, the world will have the option to meet asubstantial portion of electricity needs from renewable sources and significantly reduce carbon emissions," Page added. "We expect this would be a good business for us as well."
Coal powers many of the world's electricity-generating plants, responsible for an estimated 40 percent of the electricity used worldwide. It is favored because it is abundant in many parts of the world and relatively inexpensive to mine, though the process creates its share of environmental impacts. Moreover, coal is a major contributor to the greenhouse gas emissions responsible for global warming.
Funding Research
In addition to a corporate position of "green energy czar" to be filled by Bill Weihl, RE<C will also work through Google's philanthropic arm, Google.org, to provide grants to fund research on new technologies at startups and other third parties.
The goal of the internal and external investments is to "help spark a green electricity revolution," said Google.org Executive Director Larry Brilliant.
Google has already signed on several partners to its effort, including startups such as eSolar in Pasadena, Calif., and Makani Power, of Alameda, Calif., which is developing technologies aimed at harnessing high-altitude winds.
The search giant has moved in the past to stake a claim on the environmental leadership mantle, setting a goal of being carbon neutral by the end of 2007 — a goal it said Tuesday it remains on track to meet — in part by installing one of the largest solar panel setups at its Mountain View, Calif., headquarters.
Last summer, the company said it would move to help advance the development of plug-in vehicles, pledging $10 million to back early stage investments through an initiative called "RechargeIT."
Green Is Good
Google has plenty of competition in the quest to turn tech green. PC maker Dell has also said it would go carbon-neutral by end of next year. This week, HP said it had signed contracts with two renewable energy companies: SunPower and Airtricity. SunPower will install a solar panel at an HP facility in San Diego; HP will buy electricity generated from wind farms owned by Airtricity — energy that will be used to power manufacturing facilities in Ireland.
While many of the efforts have at least as much to do with public relations as with actual technological change, there are signs that doing business in an environmentally friendly way is taking hold, said Gartner analyst Andrew White.
For instance, Wal-Mart recently said it would start evaluating itssuppliers based in part on their efforts to minimize their environmental footprints, White noted to the E-Commerce Times.
"When companies with the size and influence of Wal-Mart and Google start to use their market power to affect how others operate, that can bring about significant change," White said.
The company might see immediate dividends in-house, meanwhile, if it can significantly reduce its own energy costs, since its large and growing data centers around the world are major consumers of electricity.