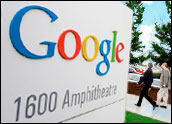 Ending months of speculation, Google confirmed that it has acquired in-game advertising firm Adscape Media. The move could help make Google a player in a market already being heavily targeted by Microsoft and other rivals.
Google confirmed the purchase on its official blog through a posting by Bernie Stolar, a former Sega executive who joined Adscape last year and will become Google's designated "dean of games."
"Our charge at Adscape has always been to honor the game that was developed and find new ways to enable that game to continue so others can enjoy it," Stolar said, adding that Adscape executives are "stoked" to be joining Google. "These guys get it, and are committed to helping us continue our mission."
The Value of Adscape
Google did not disclose the price it paid for closely held Adscape, but some earlier media reports pegged the acquisition at around US$23 million, which gives Google access to technology for blending advertising into games as well as the executive team at San Francisco-based Adscape.
Adscape's technology includes demographic and geographic targeting tools and a reporting interface that can help marketers decipher which ads are leading users to take action and which need to be improved.
In-game advertising covers a wide range of media, but typically involves rich media, such as moving billboards built into game scenes, or comes in the form of product placements inside games. Google said it has not decided yet what its ads might look like, did not rule out text-style ads and said it would use Adscape to help test various options.
Google's acquisition follows Microsoft's purchase of in-game ad firm Massive last year. That deal weighed in at around $200 million, but Massive is considered a far more well-established player in the space.
Pay to Play
Game developers have been experiencing a steady decline in ROI (return on investment) due to the skyrocketing costs associated with life-like graphics and other built-in technologies, as well as increased competition among major players in the gaming platform market.
Even with price tags north of $60 per title, gaming software is no longer the lucrative business it once was. For that reason, the purchase of Adscape could have numerous implications not only for Google and other Web advertising players, but for game developers and even gamers themselves.
"Back in the 1980s the cost of producing a single game was about $100,000," Stolar noted. "Today it can cost $25 million to produce a game. The good news is there are some very passionate gamers out there that have come up with some interesting new ways to introduce non-intrusive and targeted advertising in order to make gaming accessible and affordable for all."
For Google, the deal offers the same potential benefits that Microsoft sought in Massive — the ability to offer marketers the option of delivering ads to consumers whether they are online, on a mobile device or playing a video game, where many of the youthful demographic so sought-after by advertisers are now spending more of their time.
Game On
By lending its powerful brand name and expertise to Adscape, Google may help advance the entire industry much in the way the Massive deal was expected to do.
In-game ads remain a relatively small market, drawing in just a fraction of a percent of the total marketing dollars spent in the U.S. That is expected to change, however, as advertisers follow users away from traditional TV broadcasts and into more interactive media experiences.
The move makes sense as a diversification effort for Google to drive more revenue from sources other than paid search, a long-term goal of the company that has given rise to radio and print advertising efforts as well, Sterling Market Intelligence analyst Greg Sterling told the E-Commerce Times.
"Gaming is a multi-billion dollar market with lots of users," he noted. "In the larger context of Google's expansion plans, this gives it in-game, print newspapers, radio, video and TV through YouTube and mobile. That's an impressive portfolio of ad distribution."
Those new areas for Google also mean it still has to prove itself to advertisers, but it can build on a strong foundation from the search realm, he said. "These others areas are keys to Google's long-term growth," Sterling added.
Leveraging Its Technology
While others have focused on the technology for making advertising fit inside games, Google will likely be able to accelerate the development of the marketplace by leveraging the same technology it used to grow paid search and contextual advertising, Yankee Group senior analyst Mike Goodman told the E-Commerce Times.
"Google can provide a boost to this space by making it easier for advertisers to buy this exposure and to measure how it's working," he stated.
The ability to roll games into a bundle of media exposure that includes video, print and search could also be very valuable for advertisers, especially those looking to spread and reinforce a message among the youth demographic.