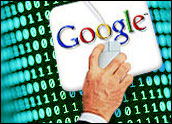 Brushing aside concerns about a drop in paid click rates and sliding past estimates, Google posted results Thursday showing not only that it remains king of the online advertising space but that it can continue to grow sales and profits in uncertain economic times.
Revenue at the search giant rose 42 percent year-over-year to US$5.2 billion in the first quarter, while net income increased 8 percent to $1.31 billion. Net revenue, which subtracts traffic acquisition costs, came in at $3.7 billion, ahead of the $3.6 billion called for by analysts.
Google shares skyrocketed by more than 17 percent — a gain of nearly $80 per share — in morning trading Friday to $529.29, which marks the largest one-day bump since the company went public in 2004. Google shares remain well below their all-time high of $747, however.
Improving the Quality of Paid Listings
Google reported under a cloud of concern that paid clicks would be down or flat from a year ago. Instead, the search giant said the number of clicks on its search advertisements was up 20 percent from a year ago and 4 percent from the fourth quarter.
That still represents a slower growth rate than at some points in the company's growth, but CEO Eric Schmidt said Google has also focused on improving the quality of paid listings, an effort that helps increase the value of each click.
"Paid click growth on Google.com in the U.S. remains healthy, and other markets are showing strong growth as well," added CFO George Reyes.
Figuring the Forecasts
The good news for Google on paid clicks was bad news for Web traffic measurement and tracking company comScore, which had released a report the day before Google's earnings suggesting that the number of paid clicks would be up less than 2 percent. Such a trend would have been a major worry for Google given it still gets the bulk of its revenue from paid search.
"Paid click growth has been much higher than has been speculated by third parties," commented Schmidt.
comScore shares were down more than 8 percent in after-hours trading following Google's release, but in regular trading Friday had regained most of their early losses to be down less than 1 percent.
comScore CEO Magid Abraham addressed the discrepancy in a blog entry posted late Thursday, citing Google's own improvement efforts and the impact of international growth among the reasons for the gap. "The evidence points to a counterintuitive trend caused by Google's own program for improving the quality of paid listings."
Paid click rates may not even be the best indicator of whether Google is being impacted by a recession, said Sterling Market Intelligence Founding Principal Greg Sterling, since there's no cost to the consumer to click on paid links instead of organic results.
"If search volumes had declined or Google had been losing market, these concerns would have been more justified," Sterling told the E-Commerce Times, noting that neither of those things is true.
A "herd mentality" and a growing vein of anti-Google sentiment and desire to see it brought down to the level of other companies facing economic realities may have helped lead to the notion that Google would disappoint — an atmosphere that ironically may have helped Google by creating lower expectations that it smashed with its results.
Meanwhile, in Redmond …
Google's unexpectedly strong quarter may ratchet up the heat on Microsoft, which is hoping to bring its effort to acquire Yahoo to a close soon, said Enderle Group Principal Analyst Rob Enderle.
"As long as that deal remains in flux — in other words, between acceptance and rejection — it is huge gift to Google and likely contributed significantly to Google's strong showing," he told the E-Commerce Times. "Google loses if this deal settles because their benefit from both Microsoft and Yahoo being in flux is so great. Yahoo is truly stuck in the middle, and I don't actually know how they are going to come out of this, regardless of which way they go, without taking significant damage at this point. However, were Microsoft to walk away, I think the damage would be catastrophic to their valuation."
Schmidt briefly addressed Yahoo during his company's conference call, saying Google is "very excited" to be working on a two-week test of its search ads with Yahoo, which published reports say could lead to a full-fledged outsourcing deal. "I don't think it's really appropriate to speculate beyond that, but it's nice to be working with Yahoo and we like them very much."
Overseas Strength
Like fellow tech heavyweights IBM and Intel, which buoyed the sector with strong reports earlier this week, Google benefited from overseas strength as well. In fact, Schmidt noted that Google's overseas revenue accounted for more than half of the total for the first time.
"Google is a money machine," Enderle said. "They risk some cost creep as they move to cloud computing and bring out Android, but their revenue source is so strong that I doubt this will hurt them much. A bigger long-term risk is any industry adjustment to how online advertising is valued."
Google hopes to address any long-term changes in the industry with a three-pronged approach consisting of its strength in search, a broader reach on advertising and a growing family of applications.
The quarter was the first to include any DoubleClick results, though Reyes said the impact was muted by the fact that the deal closed about three weeks before the quarter came to a close. Google continues to work on the integration of the interactive advertising agency, a process that will include more layoffs over time, with as many as 15 percent of the 1,500 employees acquired in the deal to be let go, he added.