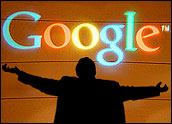 Social gaming is now serious business, and Google appears determined to become a major player in this space.
On Wednesday, reports surfaced that Google was prepared to pay anywhere from US$182 million to $282 million to purchase Slide, developer of games such as "SuperPoke" and "Top Fish" that users can play on Facebook and other social networking sites.
This news comes roughly three weeks after Google reportedly plunked down a similar amount of cash to buy a stake in Zynga, creator of the "FarmVille" game that is among the most popular features on Facebook.
Google Games
Google has refused to comment on these transactions, which are widely expected to be part of a larger strategy to create a "Google Games" offering that would provide inroads into the broader social networking arena that currently is dominated by Facebook.
Google remains the dominant search engine provider, with an estimated 70 percent market share, and mobile phones running Google's Android operating system are cutting into Apple's lead in that space.
Still, Google, which earns the bulk of its revenue through ads tied to search results, posted disappointing earnings numbers — at least by Wall Street standards — in the second quarter of 2010.
Thus the push to conquer new markets, said Lon Sakfo, social media consultant and co-author of The Social Media Bible.
Dollars Flowing to Social Gaming
"For Google to maintain its lofty stock price, it has to convince Wall Street that is has good ideas for generating new ad revenue," Safko told the E-Commerce Times. "One way of generating that new revenue is to build a presence where large groups of like-minded people gather on the Internet — that's the social gaming arena."
Social gaming clearly is attracting both users and dollars. "FarmVille," the popular Facebook game, counts 60 million players each month. In terms of revenue, social gaming generated roughly $700 million in the U.S. in 2009, mostly from in-game ad sales, but that number is expected to exceed $2 billion by 2012, according to ThinkEquity.
Google isn't the only large company looking to capitalize on that momentum. Walt Disney Co., major video game maker Electronic Arts, and video game retailer GameStop all have acquired social gaming companies in recent weeks.
This acquisition spree is an indication that these companies recognize social gaming's potential as a source of revenue, as well as an acknowledgment that it would take them too long to develop competitive games of their own, Safko surmised.
Google Seeks Dominance
In the case of Google, buying social games is part of a larger attempt to dominate the entire technology landscape, Safko asserted.
"Google is following the old Microsoft model of either duplicating or buying competitive technology in order to dominate the market," he said. "They've done this with mobiles phones, creating Android, which is taking market share from Apple. They've created social networks to try to compete with Facebook, and microblogging sites to compete with Twitter. Now, they're going after gaming."
The move into social networking "really is about Google attempting to dominate the market in every way," Alex Crystal, SEO Consultant with First Page Sage told the E-Commerce Times.
"Search and social networking go hand-in-hand," Crystal said. "You can't run searches on a social networking site, but companies that are listed in search engines can build clout behind their brands on those sites."
If someone searching for a product knows a company has 10,000 Facebook fans and its competition has 2,000 fans, the first company is more likely to turn that person into a customer, Crystal suggested.
"If Google is able to establish a dominant position in the social network space, it would be as close as we have seen to one company having a monopoly on the Internet," Crystal declared.