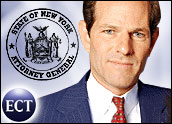 British pharmaceuticals company GlaxoSmithKline, manufacturer of the antidepressant drug Paxil, says it will pay US$2.5 million as part of a settlement of the lawsuit filed by New York Attorney General Eliot Spitzer.
In addition to the monetary portion of the settlement, GSK has also agreed to publicly disclose all of its clinical drug trials about the safety of an antidepressant for children. The company will put summaries of all of its studies since December 2000 in a clinical trial registry on its Web site.
GlaxoSmithKline noted that on June 10th the company voluntarily posted on its corporate Web site full study reports of all GSK-sponsored trials with children and adolescents on Paxil.
Clinical Trials Registry
"We are pleased that the Attorney General believes the Clinical Trial Register we have beendeveloping will provide useful information to the medical and scientific community," said Mark Werner,Senior Vice President for US Legal Operations at GlaxoSmithKline. "We believe thatGlaxoSmithKline's initiative to launch this register is a responsible step in ensuring transparency ofour clinical trial data."
The action comes on the heels of accusations by Spitzer that GSK had misled doctors by concealing information regarding the adverse effects of Paxil on children. The lawsuit said GSK had released only one of at least five studies it conducted on the use of Paxil, which is facing generic competition after generating worldwide sales of $3 billion in 2003.
The company will become the first major drug manufacturer to disclose such information. The lawsuit was filed in June and accused GSK of "concealing important information about the safety and efficacy of an antidepressant drug."
New Disclosure Standards
"This settlement holds GSK to a new standard of disclosure about studies concerning its drugs, a standard that helps to ensure that doctors and patients have access to all scientifically sound information so doctors can prescribe appropriate medication for their patients," Spitzer said in a statement.
By agreeing to release both positive and negative studies about the safety of its drugs, GSK has set an example for the entire pharmaceutical industry, said Spitzer.
The suit centered on drug manufacturers' responsibility to indicate whether antidepressants increase suicidal tendencies in children and whether the companies slant information on their products by not making public all the studies conducted on medicines or changing information on published trials.
Sending a Signal
GlaxoSmithKline said in a statement that although it believes the charges made in the litigation by the Attorney General are unfounded, it has agreed to pay the State of New York the money to avoid the high costs and the time required to defend itself in protracted litigation.
"The immediate impact is sending a signal to the other pharmaceutical manufacturers that this is the new standard with regard to disclosure of clinical studies," said Joe Baker, Spitzer's health care bureau chief. Additional investigations of other drug firms continues, he said.