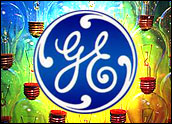 Eyeing a growing interest in nuclear power as an environmentally friendly energy source, General Electric and Hitachi announced a partnership that will combine their nuclear power units.
The deal — financial terms were not disclosed — brings together two of the largest industrial and commercial companies in the world, with the common goal of developing next-generation nuclear power solutions.
Historic Agreement
Each company will take ownership in the other's nuclear energy business lines, with GE taking a 20 percent stake in Hitachi's unit, and Hitachi, in turn, owning 40 percent of GE's nuclear business.
"This is truly a historic moment for our two companies," said GE Energy President and CEO John Krenicki. "Each business is contributing its existing nuclear power plant technology and service resources and assets to create a new alliance that will be the most comprehensive BWR technology and service provider in the world."
The companies said the combination will enable them to "execute a single strategic vision" around capturing new opportunities in the evolving nuclear market.
"By taking this bold step together, GE and Hitachi are ensuring that both companies will be strongly positioned to compete effectively and grow in a sector worth billions of dollars," Krenicki said.
Changing Industry
The companies said potential targets of combined research and development spending include new reactor design, which would come at a key time for the industry amid a resurgence in interest.
Though the U.S. has not licensed or built a nuclear plant in more than a generation, rising oil prices, environmental concerns and other factors — including an improving safety record for existing plants — are causing many to take a second look at nuclear power.
Meanwhile, the power plant industry itself is undergoing a major wave of consolidation. Mitsubishi Heavy Industries and France-based Areva recently said they would work together on nuclear services, and last month, Toshiba closed its US$5.4 billion acquisition of Westinghouse, both of which have major nuclear operations.
According to Hitachi, some 100 new nuclear plants will be built over the next 20 years. The company also predicts the U.S. will resume building nuclear plants again soon, possibly in time to have some up and running by 2020.
Friendly Governments?
Combining operations may give each company a better chance of capturing business in the other's home market, with Hitachi possibly more welcome in the U.S. market by regulators, and GE better able to land business in Hitachi's home market of Japan.
Meanwhile, emerging markets are likely to see the lion's share of nuclear investment in the next decade, with the power needs of both India and China likely to far outstrip the energy that can be produced with fossil fuels.
The deal could be a lifeline from GE for Hitachi, which recently posted larger-than-expected quarterly losses in its nuclear division, the direct result of turbine failures at some Japanese plants it helped build and manage.
The partnership may also be a long-term play, with the stars starting to align for a resurgence of interest in nuclear power generation in the U.S., said Morgan Stanley analyst Caren Byrd.
Recent energy legislation contains tax incentives for non-fossil fuel plants and the first steps have already been taken to license some 31 new reactors, including a new plant near an existing nuclear facility in North Carolina and another in south Texas, Byrd told the E-Commerce Times.
"Over time, the money will start to flow toward plant design and construction," she added. When it does, a U.S.-based company such as GE will want to be in position to provide those services quickly. "The industry is realigning ahead of the new opportunities.